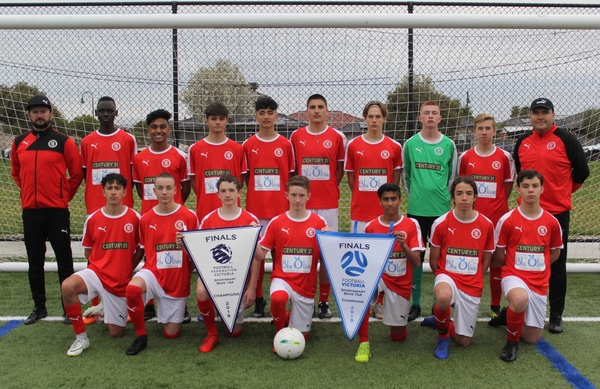 By sports editor Russell Bennett
Rain, hail, or shine – the young men of the Berwick City Soccer Club under-15s converge on Sweeney Reserve from different corners of the south-east.
Some take a range of buses and trains just to make it there, and even a quick glimpse of them warming up with their mates before training explains why.
This all-conquering outfit plays for the love of the game, and for the bond they share.
It can't be manufactured, and it's genuine.
And it's a huge contributing factor to their astonishing success.
They recently recorded one hell of a rare double – winning back-to-back Victorian state titles after also going back-to-back as league champions in the South division 15As.
They defeated the West division champions from Spring Hills FC in the statewide semi-final, and then backed that up by defeating the North champion Bundoora in the final.
They also – for the second year in a row – won the Berwick City Cup.
But in order to understand just how incredible this side is, one must go all the way back to 2016, when the same nucleus won the South division 12A league title.
Right through the age groups since – under-13s, under-14s, and now under-15s – they've taken on all before them and won.
Coach Milan Mihajlovic and his assistant Ollie Pivac know the group better than anyone. They quickly identified the key ingredient behind the boys' success.
"It has to be down to their mateship – not only on the field, but off the field too," Mihajlovic said.
"They're a great unit, and they work for each other – and that's what real mates do.
"It shows on the pitch – they fight for each other, they support each other, and it's a real team effort. We're not about individuals taking the limelight."
The cohesion of this remarkable group has only continued to strengthen over the years, and the players know each other's games inside and out.
"There's always been some change – maybe one or two players will drop out – but overall the core of the team has been here for a long time and the new players who come in adapt to the style of the group," Mihajlovic said.
The group has cultivated its own culture, and any new player that joins has to fully buy-in if they want continued success. It's a non-negotiable.
"The new boys who come in can see straight away that it's a disciplined side, and that they have to adapt to the way we play," Mihajlovic said.
"Obviously this team isn't for everyone.
"Players need to fit the mould of how we play. There are a lot of good players out there who trial for the team, but we don't take everyone.
"The ones who do make it – they're coming in for a reason and they adapt to the style we play.
"Life isn't all about sport, but there are things you'll learn in sport that you can take with you beyond that.
"Our job is to make these boys good players, but also to play a role in developing them into good human beings.
"We're happy with what they've done with them, and I can't speak highly enough of them as a group – we love them."
Pivac gave some further insight into just what makes this Berwick City group so special.
"A few of the boys, some really special players, have achieved incredible things in the past few years," he said.
"Three of the boys in our starting XI catch two buses and a train just to get here, and they didn't miss one training session all year.
"That part of the story needs to be told because they've got the dedication and the discipline just to be here. Their commitment is next level, and they've been doing it since they were in their early teens."
Earlier this year, Berwick City was accepted into the National Premier League's Junior Boys (JBNPL) competition for 2020 onwards – serving to enhance the future pathway for the boys from the elite junior to senior ranks even further.
"We want our players to play at the best level possible," Mihajlovic said with more than a hint of pride.
"Some of them have hung around because they just love the team and the club.
"They don't want to go anywhere else, and they've heard they might have a chance to play at that level and now they're going to have that chance to play next year as a group.
"After that we'll see what happens, but we'll just take it one year at a time and concentrate on next season – starting in November with the pre-season."
Last month, Mihajlovic was named as the under-16 coach for Berwick City's debut JBNPL campaign.