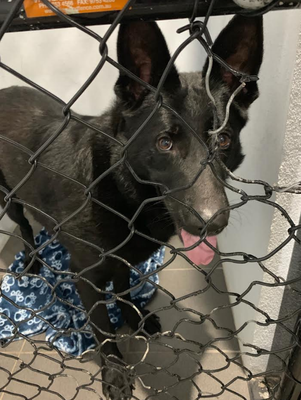 By Brendan Rees
A woman has recounted the horrifying moment a stray dog was left for dead after being hit by a car in Lysterfield South.
Lisa Ross was travelling along Churchhill Park Drive when she saw a dog scoot across the road about 8.30pm on Tuesday 22 October.
She pulled over and saw a man sitting in a car parked near the entrance of Churchill National Park.
"I put my passenger window down and I said to him 'Is that your dog?' And he was obviously of a different nationality and said 'no, no not my dog'."
Ms Ross then called to the dog, which was later ascertained to be a German Shepherd, still wandering around the road but "quite happily" ran to her car.
As soon as the dog came to her door she noticed an oncoming car and immediately flashed her hazard lights.
"She was still sitting beside my door and the car just hit her, literally beside my car," Ms Ross said. "Instantly I was screaming."
Fearing the worst, Ms Ross was surprised when she saw the dog limping near the back of the parked car before hurrying across to a golf course.
"I drove down to the golf course and I turned and I couldn't find her and I was calling her," she said.
Ms Ross called local wildlife rescuer, Sue Johnson as the man "didn't attempt to get out of the car" to help.
"I did a couple of laps and this guy was still sitting at the park then he just drove off," she said.
Ms Ross and Ms Johnson searched the area until midnight but the dog was nowhere to be seen and both decided to go home.
However, Ms Ross said she got a message from Ms Johnson – just as she was about to sleep – saying a dog had been sighted on social media. They went out searching again until about 1.30am to 2am but still couldn't find her.
The pair left a message at the Churchill Park Golf Club and fortunately they received a call from the club at 7.15am saying they had spotted the Shepherd.
"Sue rang me and I flew down there with a couple of my kids just before school," Ms Ross said.
They found the dog and put her in the disabled toilets before taking her to the Wellington Village Vet in Rowville.
The dog was transferred to the Animal Aid Vet Clinic in Coldstream and treated for broken toes and bruising.
She was also confirmed as a three-year-old but her microchip details weren't registered "so she'll hopefully go for adoption," Ms Ross said.
She added she wasn't able to get the registration of the car that hit the dog and the owner of the dog was still not known.
"Sue and I have posted on every single lost dog's page (on social media) … nobody is missing this dog," Ms Ross said.