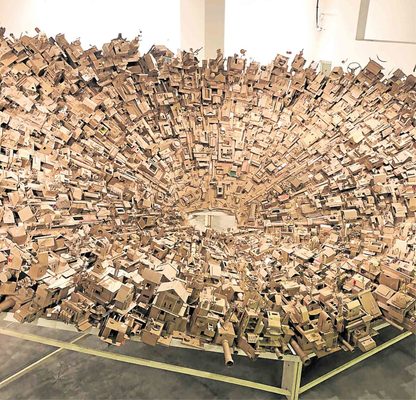 By Danielle Kutchel
Migration becomes art in a new exhibition coming to Bunjil Place this summer.
The Home/Land: Project Another Country exhibition invites participants to build communities of dreams using cardboard.
That material forms an important part of the work, co-creator Isabel Aquilizan says.
"Our work is also about materials and how materials relate to ideas. In a way, it becomes part of the meaning of the work.
"Cardboard is probably one of the materials I think relates directly to movement, relocation and dislocation. It's also an unassuming material; you can give anyone cardboard and start making things out of it," the artist says.
There's also a personal aspect to the exhibition. Ms Aquilizan and her husband Alfredo, the exhibition's co-creator, moved to Australia in 2006 with their belongings contained in just 12 boxes. Thus, the exhibition draws on their own feelings and knowledge of the transient process of moving and setting up a new home.
To prepare for the exhibition, the duo hold workshops where members of the community are asked to make their dream home out of cardboard, using packing tape and knives. Some people add cars, gardens and pets to their creation. Eventually, a cardboard village is created, representing the hopes, dreams and needs of those present.
The project has been exhibited all over the world, including in New Zealand, Japan and China, and each exhibition is unique as it takes on the flavour of the location it is in and the people whose hands have worked on it.
The Aquilizans then put the works together in the chosen exhibition space before throwing open the doors to the public.
"One of the most important aspects of the work is engagement with the audience. I think through that engagement, the narrative and meaning of the work multiplies through each individual who relates to the objects according to their experience and background and where they come from," Mr Aquilizan explains.
"The meaning of the work, in a way, is not static but goes on in the minds of every individual who engages in the work."
The Home/Land: Project Another Country exhibition will open at Bunjil Place Gallery on 14 December 2019, running until 8 March 2020.