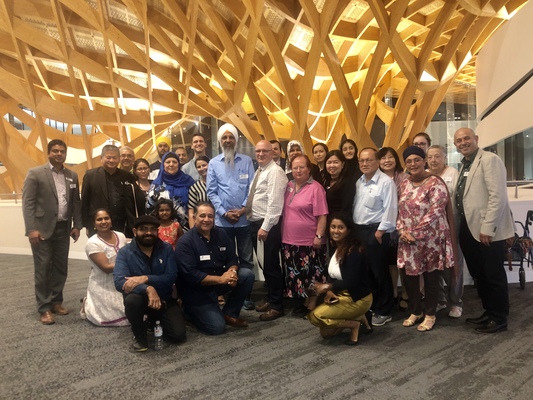 By Brendan Rees
About 40 people of different faiths have gathered for a community forum to discuss ways of eradicating family violence at Bunjil Place on Thursday 21 November.
Organised by the Casey Multi-Faith Network, the evening saw community leaders speak about whether religion and faith played a role in family violence.
People of different faiths including Muslim, Hindu, Sikh, Christian, Scientology, and Jewish were in attendance.
In his opening address, president of the Casey Multi-Faith Network Adam Sadiqzai said it was his wish everyone could work together and "feel free to ask questions no matter how confronting in an atmosphere of peace and respect".
"It is my belief that through peace, understanding, respect and the willingness to learn we can build a harmonious community," he said.
"Alarmingly for the past five years the City of Casey has consistently had the highest number of reported family violence incidents in Victoria".
Reverend Ray McCluskey, Minister of Cranbourne Regional Uniting Church was one of four-panellists invited to speak at the forum.
"We anecdotally see the effect that family and domestic violence is having in our community," he said.
"I don't think that there can be any argument, that family violence and in particular, family violence which is perpetrated predominately against women and children by men, which crosses all thresholds of religious, cultural, socio economic, and the various demographic groups who make up our society," Rev McCluskey said.
"We don't pretend to have all the answers, and we still have a long way to go. But we do believe that our church needs to be a place of welcome and hospitality to all".
Panellist Jasbir Singh, founder and director of the Sikh Australia Support for Family Violence (SASFV), said family violence was not a migrant problem but rather a "human problem".
"It covers across all faiths, all status, whether you're a minister or Prime Minister or president or lawyer or policeman – everyone including me".
"We need to condemn the behaviour and changing attitudes of not just men but every human being".
Mr Singh, who runs workshops called 'Healthy Families, Healthy Relationships' which is dedicated to raising awareness of the realities of family violence, also discussed how the founder of Sikhism, Guru Nanak Sahib Ji, denounced meaningless rituals and promoted equality for women.
"The principles of Sikhism state that women have the same souls as men and thus possess an equal right to cultivate their spirituality with equal chances of achieving salvation," he said.
Guest speaker Hayat Doughhan, founder of the El-Emaan Muslim Woman's Support Group, discussed how Islam had pioneered new regulations regarding the status of women.
"According the Koran the relationship between the husband and wife should be based on mutual love and kindness" she said.
Also speaking on the panel was Andrea Shepherd who talked about her role as a senior practitioner of community development and strategic engagement coordinator at South East Community Links which works with people of migrant and refugee backgrounds in addressing the gendered drivers of violence against women.
"One thing that really struck with me is around the stereotype constructions of masculinity and feminism, she said.
"The way we construct masculinity as well is toxic because we are saying that men should be a certain way and act a certain way which can really have a negative impact on men".