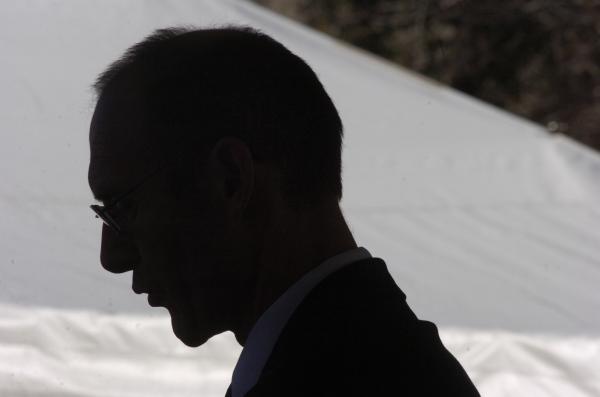 By Cam Lucadou-Wells
Casey Council chief executive Mike Tyler's forced resignation had nothing to do with property developer John Woodman's opinion, councillor Geoff Ablett has told an IBAC hearing.
He also denied that Mr Tyler's opposition to Mr Woodman's desire to rezone tracts of industrial land to residential in Cranbourne West – known as Amendment C219 – played a part.
Cr Ablett had bragged that he "nailed" Mr Tyler in a tapped phone call played to IBAC last week.
On 3 December, Cr Ablett said that he "played a role representing the group" of councillors trying to "patch up differences" with Mr Tyler.
"When Mr Tyler left, he left on his own terms.
"All 11 councillors had some concerns with Mr Tyler."
Cr Ablett admitted having discussions with Mr Woodman about the issue.
"He did ask me about Mr Tyler and I did say, 'We're having talks to see if we can iron out some differences with Mr Tyler.'"
Cr Ablett denied that Mr Woodman had pressed for Mr Tyler's sacking though "when he went he was happy about that".
"Mr Woodman expressed ever since I first knew him that he didn't get along with Mr Tyler. That's going way back.
"But (he) didn't instigate what happened."
Mr Woodman had earlier told IBAC that he'd asked Cr Ablett to consider whether Mr Tyler's "time was up".
In a phone tap call with Mr Woodman after the event, Cr Ablett told of how he "nailed" Mr Tyler.
"Every time he moved left or right or forward or back I had him covered and then eventually I started gathering the information.
"After six weeks we had him in the corner and then I f***ing nailed him."
In a phone tap played at the IBAC hearing, Mr Woodman told Cr Ablett that both of them stood to lose a "s***load of money" if Amendment C219 didn't go through.
Mr Woodman told IBAC last month that in that case, he was more than likely to pull out of a contract to buy part of Cr Ablett's rural property in Gippsland West for $350,000.
He had paid a $150,000 deposit on the property.
Counsel assisting IBAC, Michael Tovey, asked Cr Ablett: "Did you tell Mr Tyler that you were conflicted in respect of matters relating to getting rid of him in view of the fact that he was against C219 and you were going to make a financial windfall if it went through?"
Cr Ablett denied he stood to make a "financial windfall", only that Mr Woodman would "buy some horses" for his business if the rezoning went through.
IBAC tendered a draft letter to Mr Tyler from then-mayor Ablett requesting the CEO's resignation in February 2018.
In the draft, Cr Ablett stated that the majority of councillors had "lost confidence in you as Chief Executive Officer".
The council had engaged employment law firm Justitia to review "serious issues and concerns" with Mr Tyler's performance, Mr Ablett stated.
"I do not believe that you have appropriately considered or responded to these concerns."
The concerns were failing to provide safe egress for councillors from Bunjil Place, failing to listen to councillors and not providing advice in a "supportive and responsible manner".
Mr Tyler was offered three months pay to resign, tied to a confidentiality and non-disparagement clause.
If he didn't resign, councillors would move in closed council to dismiss him, Cr Ablett wrote.
At the hearing, Cr Ablett denied that he worked with Cr Sam Aziz in dismissing Mr Tyler, despite the draft letter being emailed to both councilors from Cr Ablett's secretary.
Crs Ablett and Aziz are being accused by IBAC of taking collectively $1.2 million from Mr Woodman in exchange for their support on planning decisions.