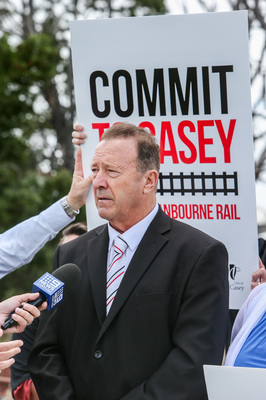 By Cam Lucadou-Wells
An explosive phone tap recorded Casey councillor Geoff Ablett saying he was "sick of rigging stuff" with Cr Sam Aziz's "bloc", an IBAC inquiry has heard.
Before playing the recording, Counsel assisting IBAC, Michael Tovey QC, asked Cr Ablett what "rigged" meant.
"Well, set something up that you vote a certain way about something like that," Cr Aziz replied.
Cr Ablett said he'd "never rigged anything with Sam Aziz".
"I'm not that close to him.
"Not ever. I never rigged anything with any councillor, sir, or officer or anyone."
Later Cr Ablett was confronted with the tapped call with then-Liberal MP Neale Burgess on 2 November 2018.
Cr Ablett tells Mr Burgess that he'd called Cr Sam Aziz.
"And I said 'Look I can understand all that Liberal Party and all that but … I'm not in your bloc anymore mate because I'm sick of rigging stuff.'".
Cr Ablett told IBAC that he wasn't talking about "rigging stuff" but Cr Aziz "advocating for what he wanted".
He said that Cr Aziz put pressure on a "bloc of Liberals and one other" to vote his way on "whatever recommendation that he wanted".
The bloc included Crs Amanda Stapledon, Wayne Smith, Damien Rosario and an unidentified "very, very ill" councillor, Cr Ablett said.
"I was easing my way out of the Liberal Party, which didn't please them …
"And in the end I said, 'I don't want to be in this bloc.
"I want to be able to vote freely and have pressure put on me to vote a certain way."