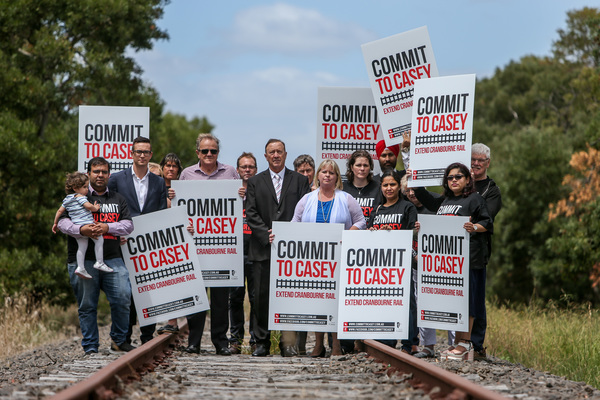 By Cam Lucadou-Wells
Despite declaring a conflict of interest, Casey councillor Geoff Ablett was accused of continuing to promote property developer John Woodman behind the scenes, an IBAC hearing was told.
Cr Ablett had first declared the conflict of interest at Casey Council in 2015. From then on, he removed himself on voting planning matters involving Mr Woodman.
But since then, Cr Ablett allegedly strategised with a 'residents action group' as well as coached councillor Sam Aziz during a council vote on a Woodman-related planning issue, the inquiry heard.
According to notes from a meeting with Save Cranbourne West Residents Action Group in June 2018, Cr Ablett advised on how to put the pressure on Labor state election candidate Pauline Richards.
"In his view the best way to tackle this was to put the heavies on Pauline Richards," group leaders Ray and Valerie Walker stated.
At the IBAC hearing, Cr Ablett denied the claim.
"I wasn't going to put the heavies on Pauline Richards or anyone."
At the time, Mr Woodman was seeking the Amendment C219 rezoning of industrial land to residential in Cranbourne West on behalf of developer Leighton.
The residents group – which IBAC alleges received $198,000 from Mr Woodman – and Casey Council backed the rezoning. But it had yet to be approved by Planning Minister Richard Wynne.
Cr Ablett denied that he advised the group to request Ms Richards to directly speak to Mr Wynne, and to pledge support for the coming election "if she can get this signed off".
He also denied claims in the group notes that he advised "we will put together a massive campaign against Labour (sic) – and with Cranbourne being a 2% marginal seat, we will see it returned to the Liberals."
"We did have a talk about the area and I did say 'Why don't see where it sits with Pauline,' but not to lobby ministers and have campaigns for Pauline Richards," Cr Ablett told IBAC.
Supportive of the rezoning, he said that he didn't realise at the time there was a conflict of interest in "just talking about it".
When asked repeatedly if he was involved in a strategy to get rezoning approval from Mr Wynne despite being conflicted, Cr Ablett said he didn't speak to the minister.
Counsel assisting IBAC, Michael Tovey, several times implored Cr Ablett to "listen to the question".
"Look, Mr Ablett, you are a champion at not answering questions," Mr Tovey said.
Cr Ablett said he didn't think such a strategy came from Mr Woodman or his planning consultant Megan Schutz.
"I wasn't sent there by Mr Woodman to do that. I had heard about SCWRAG and I had no idea that Megan Schutz was tied up with SCWRAG.
"Absolutely not, sir, until I read it in the paper and I didn't realise that Mr Walker was being paid (by Mr Woodman's company Watsons)."
Cr Ablett was also accused of colluding with councillor Sam Aziz, Mr Woodman and his associates ahead of a council vote on the H3 intersection in Hall Road, Cranbourne in October 2018.
The IBAC hearing was shown text messages sent from Cr Ablett's phone to Cr Aziz during the vote.
Mr Tovey described the messages as "coaching in real time".
Cr Ablett, who had removed himself from the vote, said that he'd thought that Ms Schutz had sent the messages.
"But it could have been me."
IBAC Commissioner Robert Redlich asserted that it was the "most flagrant abuse of the conflict situation".
"Yes, sir," Cr Ablett said.
"I shouldn't have done it."
Cr Ablett said that he'd acted to support Cr Aziz for the sake of traffic safety on Hall Road.
Cr Ablett first declared a conflict-of-interest on Woodman-related planning decisions in 2015 after a State Ombudsman inquiry into Mr Woodman's donations to him in 2014.
Mr Woodman had helped fund his 2010 and 2014 State election campaigns and bought part-shares in horses with him for several years.