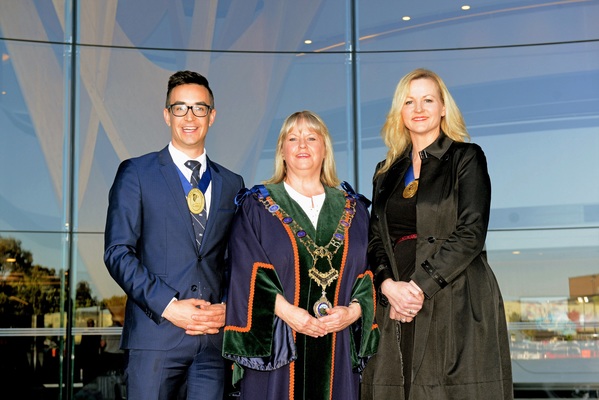 By Cam Lucadou-Wells
Four of Casey Council's 11 councillors were conflicted in a crucial planning vote in October 2018 due to links to property developer John Woodman, an IBAC hearing has heard.
Mayor Geoff Ablett and councillors Susan Serey and Amanda Stapledon declared their conflicts and left the council chamber ahead of a vote on the H3 intersection in Hall Road Cranbourne West on 16 October.
In the IBAC hearing, commissioner Robert Redlich observed that if Cr Sam Aziz "recognised what Mr Woodman acknowledges was a conflict of interest" he would have withdrawn as well.
"So we would have had a council debating a motion with half the councillors not there.
"All conflicted because of an interest that the developer has – Mr Woodman."
Cr Ablett declared a direct financial interest, as he did with Woodman-related matters from 2015. IBAC alleges that he had received more than $300,000 from the developer.
Cr Susan Serey declared an indirect interest described as 'State Election'. IBAC heard that Mr Woodman had spent about $15,000 on her unsuccessful state election campaigns.
Cr Amanda Stapledon also declared a conflict.
IBAC has been told that Mr Woodman donated $40,000 to Cr Stapledon's 2014 state election tilt. He also gave funds to Blairlogie Living and Learning – a supported accommodation facility attended by Cr Stapledon's son.
A tapped phone call revealed Mr Woodman and his planning consultant Megan Schutz's intense interest in the vote – and the upcoming mayoral election.
Ms Schutz told Mr Woodman she didn't think Cr Ablett was "not a sure thing" to be returned as mayor on 29 October 2018.
"Geoff does not have (Cr Tim) Jackson and (Cr Rex) Flannery's votes… He thinks he's got them, he doesn't have them.
"And he doesn't have (Cr Damien) Rosario's vote. Rosario hates him."
She speculated that Cr Stapledon may support Cr Rowe as mayor ahead of Cr Ablett.
Mr Woodman told her: "Darling, he hasn't got Amanda's vote. I'm meeting with Amanda tomorrow."
IBAC heard that Cr Stapledon later met with Mr Woodman to support her election as mayor. She was successfully elected on 29 October.
Ms Schutz said Cr Ablett was "the best person to be Mayor".
"It's just a pity he's bloody conflicted with us.
"I don't know why we ever, ever, ever declared a conflict in relation to him."
Mr Woodman said it wouldn't be a disaster if Cr Rowe was mayor.
"If Gary gets the mayoralship you can still f*** Gary up.
"Gary being mayor does not mean that people continuously vote for him for the next 12 months."
Ms Schutz said: "People can turn around and realise what a dog the Mayor that they've voted in is."