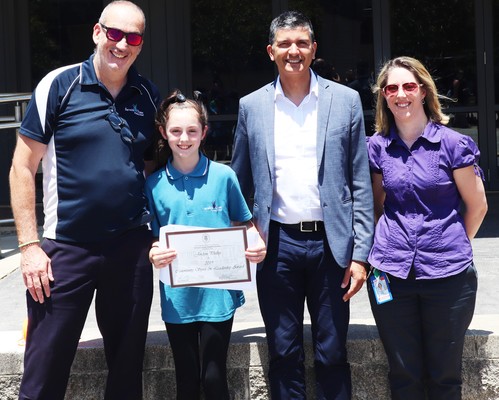 Narre Warren South MP Gary Maas was pleased to present a Community Spirit and Leadership Award to Jordyn Phillips at Berwick Chase Primary School.
The Community Spirit and Leadership awards are presented to students who have been identified as potential leaders within the community. These awards recognise the outstanding efforts of students in the Narre Warren South electorate, all of whom are considered by their peers and teachers to demonstrate the dedication, resilience, kindness, and enthusiasm needed to be the leaders of tomorrow.
Winners were selected from schools across the community, and include:
• Rafael Bouzinelos from Berwick Fields Primary, known for his friendly and respectful nature
• Jasper Battershill from Kilberry Valley Primary, who is passionate about animal welfare and is recognised by his teachers for his initiative
• TJ Sadlier from River Gum Primary, known for his empathetic nature and athletic ability
• Shae O'Brien from Hillsmeade Primary, who is regarded as a future leader
• Noah Snelling from Brentwood Park, recognised for his diverse range of interests, keen concern for our environment, and bright personality
• Ana Pantelic from Strathaird Primary, a Junior School Council Representative who stands up for others and brings a positive attitude everywhere she goes
• Jade Azemoth from Coral Park Primary, recognised for her respectful nature and her impressive leadership amongst her peers
• Ivy Nyugen from Hampton Park Primary, whose confidence in public speaking and initiative in the classroom and on student council have impressed her friends and teachers
• Melinda Rogerson from Narre Warren South P-12 College, who has demonstrated leadership through raising funds for States School Relief and the Cancer Council
• Gagan Dip Singh at Hampton Park Secondary College who displayed an outstanding commitment to the school through raising over $3000 for local charities, running of staff professional development, and coaching / mentoring of young leaders
• Olivia Brown from Kambrya College made a fantastic contribution to the school throughout the year
The students of today may be tomorrow's leaders, and these children are examples of what it means to be a leader and the impact that individuals can have on the communities around them.