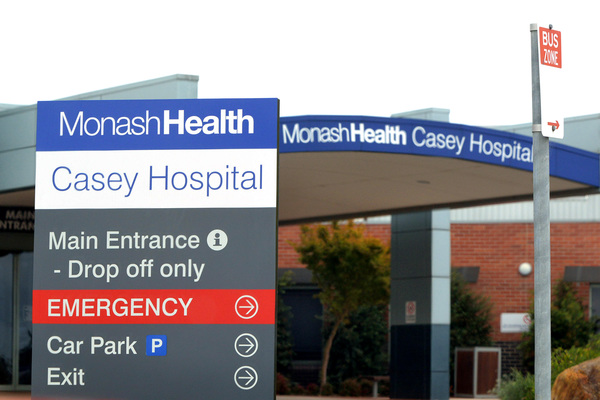 By Brendan Rees
The family of expectant mother who was in pain and waited hours at Casey Hospital – only to be told to go home due to it being "totally full" – are fuming.
Vanessa Haddad said she sat by her sister-in-law – who asked to withhold her name – in the emergency department of the hospital in Berwick for seven hours to see a doctor on 15 December.
"The hospital was chockers; there were parents out in the corridor sitting with their children even on the floor," Ms Haddad said.
"No one was moving; no one was moving in or out really."
Ms Haddad said her sister-in-law had experienced a miscarriage and was hoping to get a prescription for her pain but waited between 7.30pm and 2.30am.
"We did tell them our concerns that night … she had a heaving feeling on her chest, she found it hard breathing and stuff like that. They weren't too concerned with her at all – when triage saw her they told her to go back out to the waiting room," she said.
At one point, Ms Haddad said her sister-in-law "just looked at me and goes 'I just can't wait any more here.' She became very nervous like agitated a bit.
"One of the doctors came out about two o'clock in the morning and said: 'Look, I hate to tell everybody but you need to go and find somewhere else or see your GP in the morning. We're totally full. We can't take any more patients … there's only three doctors in rotation,' she said.
Ms Haddad said their family were devastated by the ordeal.
"They had already named the child; they told their three younger children … the kids were very upset when they found out," she said.
Ms Haddad said she didn't blame the hospital staff but said the public hospital system was "unbelievably failing" due to a staff shortage.
A Monash Health spokesperson said all its emergency department patients were seen in order of clinical urgency and apologised "for any distress experienced by our patients."
Shadow Health Minister Georgie Crozier said hospital wait times had "blown out" under Daniel Andrews, putting "enormous pressure" on hospitals and placing the lives of patients at risk.
"Daniel Andrews' mismanagement of the state budget is having real and tragic consequences for Victorian patients," she said.
Health Minister Jenny Mikakos said the government realised "there are times" when waiting in an emergency department could be stressful for patients and their families.
"We are delivering record funding to each and every hospital in Victoria for doctors and nurses to care for record numbers of patients and we are getting on with completing the massive $135 million expansion of Casey Hospital," she said.
"We won't be lectured to by Georgie Crozier and the Liberals, who delivered nothing for patients in Casey and continue to stand-by while their mates in Canberra rip $305 million out of our hospitals for services our doctors and nurses have already delivered."
Gembrook state Liberal MP Brad Battin has called on the State Government to investigate the incident involving Ms Haddad's sister-in-law to "ensure it never happens again and give confidence to the community in the health system."
Casey Hospital's redevelopment is reaching the final stages of construction and will consist of 128 new inpatient beds and the hospital's first intensive care unit in the new clinical tower, as well as six new operating theatres, a new day surgery unit, along with an upgraded pharmacy, pathology, back-of-house areas and expanded parking facilities.