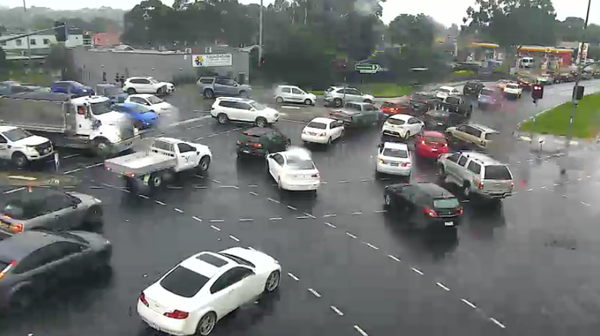 All southbound lanes on Narre Warren North Road are closed at Princes Highway due to flooding.
Delays are back to Ernst Wanke Road and building.
These lane closures are under Victoria Police control and will re-open when it is safe to do so.
Flooding is also affecting nearby Magid Drive and Ballarto Road in Clyde.
On the Monash Freeway, the Bourke Road exit inbound is also affected by flooding. Traffic is still able to exit. Vic Roads crews are in attendance.
Motorists are asked to obey overhead signage with speeds on the West Gate Freeway down to 60km/h because of high winds.
With more severe weather expected across most of the state this afternoon, the Department of Transport would like to remind motorists to slow down and take extra care on the roads. These conditions may also impact public transport services.
The Bureau of Meteorology has issued a severe thunderstorm warning for heavy rainfall and large hailstones with storms moving through the east and south east.
Bad weather should prompt drivers to slow down and use extreme care.
Conditions can change quickly. Be vigilant at all times and ensure there are no distractions that will take your focus off the road.
Make sure loads are secure, particularly on elevated roadways.
Drivers are reminded to ensure they leave extra space between them and the car in front, as braking distances increase in wet conditions.
Be sure to turn headlights on, and be extra vigilant for cyclists and motorbikes which are harder to see.
If the rain becomes too heavy for wipers to cope, pull over safely and wait for the rain to pass.
Move parked cars under cover, away from trees.
Should you encounter fallen power lines, stay well clear and immediately call Triple Zero.
Passengers on public transport services should allow extra travel time.
For the latest traffic information around the state visit traffic.vicroads.vic.gov.au or download the VicTraffic app via your app store.
The latest public transport information and network status is available at ptv.vic.gov.au or in the PTV mobile app.
If you see any hazards on our roads, please report them to the VicRoads Traffic Management Centre on 13 11 70 (open 24/7). In an emergency, call Triple Zero.