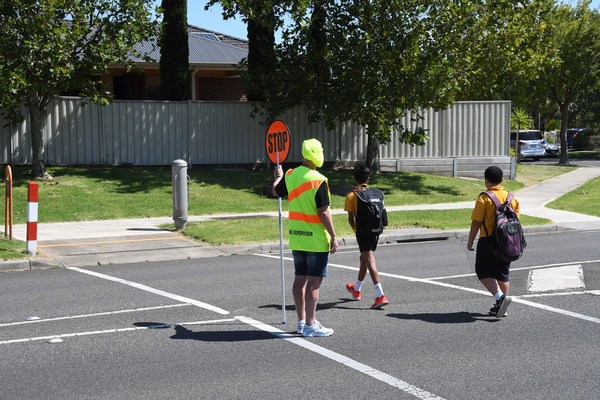 By Brendan Rees
A school parent is shocked a Narre Warren South school crossing may not have the help of a lolipop attendant by second term.
Shehan Jay, whose son attends Trinity Catholic Primary School, said a decision by Casey Council to review the crossing supervisory role on Baringa Park Drive was "not good enough" and put all pedestrians' lives at risk.
He said he was told the news late last year by a crossing supervisor who said council was "moving him on" as they were proposing to "close the crossing".
"They're putting children's lives at risk. They just don't care – it's all about budgets," Mr Jay said, adding the section of the road was dangerous.
Casey Council manager of community safety Caroline Bell said a review of the crossing was underway after receiving "reports of very low pedestrian usage". However, it will "determine the accuracy of these reports".
"The review will inform the future of the crossing and any decisions made," Ms Bell said.
"Every year the City of Casey reviews school crossings to ensure they meet the required standards. This is done by undertaking pedestrian usage counts which considers the number of cars and pedestrians using the crossing.
"When a school crossing is identified for closure, the school is provided with a minimum notice of a full school term to enable them to advise parents, students and teachers," she said.
Meanwhile, Mr Jay said for council to put their interests of cost savings ahead of safety was "unfair" and "not right".
According to Mr Jay, the council said a crossing supervisor would be hired on "certain days, not every day".
Mr Jay said he worried about his 11-year-old son who made his own way home after school.
"We won't know until he gets home safely," he said.
Adding to Mr Jay's frustration is that parents have not been made aware of the review.
"Parents are sending their kids to school assuming that there's a crossing guard there but there isn't".
When he spoke to council, he said primary school children couldn't judge how fast cars were travelling but the council's response, he said, was: 'That's up to the parents to teach their kids that'."
The council also "didn't count" adults or high school children as part of their review, he said.
Mr Jay said he told council they would be liable if there was an accident but was advised: "We'll have to cross that bridge when it comes to that".
"It's too late when someone is dead," he said.
It is understood Trinity Catholic Primary School, who has been contacted for comment, is aware of the review.