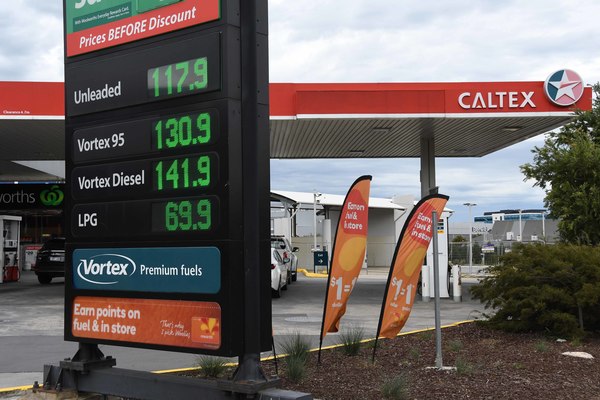 By Brendan Rees
Plummeting petrol prices have delivered a welcome respite for motoroists with the average Victorian saving up to $50 a month on their fuel bill.
It comes as world crude oil prices take a tumble as a result of the coronavirus outbreak.
The drop in oil demand, and subsequent oversupply, has seen the wholesale price of petrol in Australia fall to its lowest level since February last year, according to RACV senior vehicle engineer Nicholas Platt.
Mt Platt said RACV's data showed it was the "largest continual price reduction phase" that RACV had ever recorded.
"This fall has led to an unlikely benefit for motorists with the average price of unleaded petrol in Berwick and surrounding suburbs currently selling for just under $1.20 per litre, the lowest price so far this year," Mr Platt said.
"RACV doesn't expect the prices to suddenly skyrocket so the best way for Victorian motorists to make sure they're getting the cheapest petrol price is to use a comparison app or website, like the RACV fuel finder.
"If prices are high in your area, RACV recommends topping up and waiting for them to fall before filling up."
On Friday 13 March, unleaded fuel prices were as low as 115.9 cents per litre in Cranbourne and 117.9 cents per litre in Berwick, according to the Petrol Spy website.
Commsec chief economist Craig James said the lower prices were good news for Australians with the monthly fuel bill having already fallen by $30 over the last six weeks.
"A $50 fall in the monthly fuel bill equates to a quarter of a percent fall for a $350,000 mortgage," he said.
"Filling up the car with petrol is the single biggest weekly purchase for most households," Mr James said.
"Many home buyers have responded to recent rate cuts by electing to pay down debt at a faster rate rather than use savings to engage in retail therapy".
Mr James explained the coronavirus had led to a reduction of air travel and therefore reduced demand for oil products like gasoline and aviation fuel.
"Falling prices at the already low level of interest rates would make it challenging for central banks. In this environment the onus falls on governments to inject stimulus," he said.
Mr James added the last time oil prices were trading around the current levels was four years ago in late February 2016.
According to independent price monitor, MotorMouth, the average unleaded petrol prices across Casey on 13 March were 117.5 to 119.5 cents a litre.