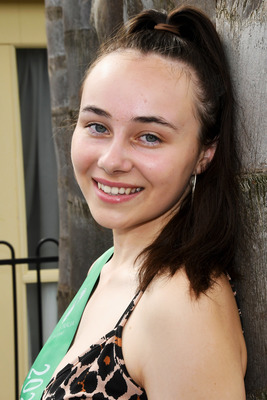 By Brendan Rees
At 15, Ashley Lucey-Jannert is one step away from making her dreams come true.
The Narre Warren South resident is thrilled to have been announced as a Victorian finalist for Miss Teen Australia 2020 and would love nothing more than to bring the winning sash home.
"It's such an exciting journey that includes helping others while learning more about ourselves," she says.
Since taking up dancing at the age of four, Ashley has featured as a dancer and vocalist of the Victorian State Schools Spectacular since 2013, which is aired on Channel 7 each year – as well as winning an array of awards in singing, dancing and acting.
She's also performed in a number of City of Casey events for the past 10 years and starred in films, television commercials and voice-overs.
But this year's pageant is more than just the glitz and glamour.
Ashley, a year 10 Narre Warren South P-12 College student, is campaigning for support and awareness of endangered species across the globe through 'The Ellen Fund'.
"I am always watching documentaries with my mum, particularly wildlife episodes," Ashley explains.
"Learning that gorillas are one of the most endangered species on Earth is quite sad and I would love to support this cause in the hope of increasing the population of gorillas in Rwanda as well as sustaining their habitat for future generations".
Ashley has been busy raising funds through her online page, which has gathered $863 and she hopes more can jump on board and donate.
"I would also welcome any local business partnerships for the pageant itself in September," she says.
Ella Bache Fountain Gate have offered her a spray tan and nails while Barry Plant Real Estate in Narre Warren has donated $500 to her fundraising page.
"I'd secretly love lipstick to help with some gorgeous shoes and I am obsessed with Rockwear fashion," she says.
Her charity work is one of the categories Ashley will be judged on, together with decorum, Q and A's, fashion, and other challenges leading up to pageant final on 24 September at the Beau Monde International in Doncaster East.
To donate visit: https://moa2020-the-ellen-fund.raisely.com/ashley-lucey-jannert