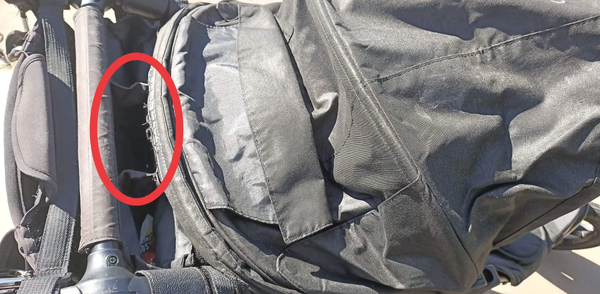 By Brendan Rees
A mum of three has told of her shock after a heartless thief snatched her wallet from her pram as she shopped at a Coles supermarket in Narre Warren.
Rhiannon Johnston, 26, said she had been looking at the shelves when a man swiped her wallet from a cup holder on the top of her pram at the Fountain Gate Shopping Centre supermarket about 10.30am on Friday 27 March.
"I saw his hand slide over. He literally grabbed it and slid it into his basket and started to walk away," she said.
"I turned around and yelled out: 'Oi, that's my wallet' and he just dropped the basket on the ground and proceeded to walk out."
Ms Johnston, who had her 18-month-old daughter in the pram and eight-year-old son next to her, raised the alarm with security.
At this point, Ms Johnston said she picked up the basket containing her wallet and a carton of milk, before continuing to yell out to the man in front of stunned onlookers.
The man had managed to leave the shopping centre but was apprehended by security shortly after.
A Victoria Police spokeswoman confirmed police were investigating the incident and a 34-year-old man from Dandenong had been arrested.
He has been charged with theft and had been released pending summons and will appear at the Dandenong Magistrates' Court at a later date.
Still reeling from the ordeal, Ms Johnston said she hoped by sharing her story she would not only call out the man's behaviour but prevent further incidents from happening, particularly in a time of crisis.
"I was really caught off guard," she said. "I can't imagine how many old people are falling victim."
"I didn't get a really good look at his face because he literally walked past, grabbed it and kept walking."The way he was acting, was like he's done it before because he was very casual," she said.
Ms Johnston was comforted by staff who told her there had been a few incidents in the store in recent times – including an elderly lady's phone being snatched from her handbag.
She said her son was shaken by the incident but had managed to help police by providing a description of the culprit, who brazenly didn't attempt to cover his identity by wearing a hoodie or a hat.
Ms Johnston said she felt "silly" for placing her wallet on top of her pram but would be "very careful" in the future.