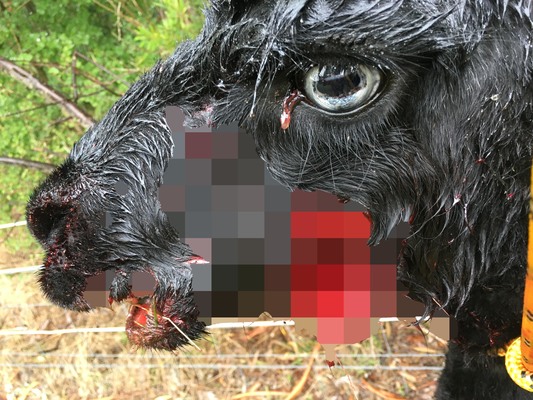 By Brendan Rees
The heartbroken owners of an alpaca have told of their distress after finding their beloved animal mauled in what's suspected to be a dog attack.
The owners, who have asked not to be named, had been out for the morning on Monday 24 February when the unspeakable happened at their Narre Warren North home – their 11-year-old alpaca had been left for dead with horrific facial injuries at their McKenzie Lane property.
It was only when the owner's husband had arrived home about 12 noon that he learned of the animal's distressed state through a concerned neighbour.
He hurried to the vet before calling his wife to return home to comfort their much-loved alpaca named Beau.
But what she saw next would be one of the most "absolutely horrible" experiences she's encountered.
"I just couldn't believe it," she said, as she discovered Beau lying on the ground – "nudging the grass with his face, possibly trying to get water".
"He could not open his mouth, and was not able to breathe properly."
Sadly, Beau had to be put down, however his companion, Bruno, another alpaca on the property – escaped unscathed.
Casey Council has confirmed it was investigating the incident and are appealing to witnesses for help.
"Investigating officers would like to speak to anyone who may have witnessed the event, in particular the owners of a white American Staffordshire Terrier seen in the vicinity of Kalora Park Reserve, Narre Warren North, on the day of the attack," Casey Council manager of safer communities Caroline Bell said.
Still struggling with the loss after five weeks, the couple hope by sharing their story they will prevent such future atrocities from occurring – and anyone with information regarding their ordeal would come forward.
The owners have viewed footage from a neighbour's CCTV camera which captured a woman initially wandering around with two dogs at Kalora Park – an off-the-leash park that abuts their property.
The dogs, the owner said, did not appear to be under "control" for "some of the time" by their owner.
"It all looks OK for a while then all of a sudden these dogs run between the pens and come running towards (the neighbour's) properties," the owner said.
"The biggest one – which is mainly a white dog – sort of crouches down. Has he seen something of interest?"
According to the owner, the footage later allegedly showed a man getting out of a car on McKenzie Lane carrying two dog leads – "but he has no dogs" – until he's later seen with the woman in the park before they walk off together with the dogs on leads.
The couple have taken photos of Beau's injuries including blood that had splattered on a nearby shed which has been handed to council.
Unfortunately, the couple say they are frustrated with council's response which they have described as "contemptuous" – and added more pain to their heartache."l do believe that if a child had been savagely attacked or killed this footage would not have been dismissed as worthless," the owner said.
Anyone with information is urged to contact the council on 9705 5200.