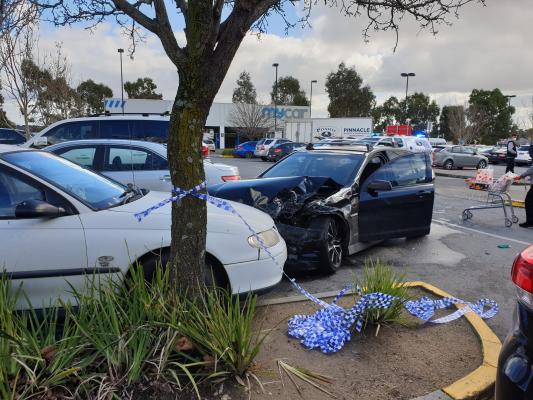 A 17-year-old boy from Clyde North has been charged with a raft of offences following an alleged home invasion in Cranbourne North on Wednesday 6 August.
Police allege the boy and another male entered a property on Malmsbury Drive where one of them threatened a woman and her two children with a knife before stealing her black Holden Commodore wagon.
The vehicle was allegedly travelling on the Princes Freeway when it struck an unmarked police car, causing the police vehicle to hit a concreate barrier.
A female senior constable in the vehicle was injured during the collision and was taken to hospital for treatment, A Victoria Police spokesperson said.
A short time later, the pair were arrested at Eden Rise Shopping Centre in Berwick after the stolen vehicle allegedly collided with a number of parked vehicles.
An 18-year-old from Doveton was taken to hospital and remains under police guard and is expected to be interviewed following his release from hospital after he sustained a bite to the arm from a police dog.
The 17-year-old boy from Clyde North was arrested by police after a "conducted energy device" was deployed, the spokesperson said.
In relation to the Cranbourne North aggravated burglary, he has been charged with a litany of offences including home invasion, criminal damage, theft, theft of motor vehicle, threat to inflict serious injury, and assault with a weapon.
He has also been charged with more than nine offences in relation to further aggravated burglaries in Pakenham and Rowville including home invasion, assault with a weapon, and breaching Chief Health Officer directions.
Meanwhile, police have arrested two teens after they were found in an alleged stolen vehicle in Cranbourne on Thursday 6 August.
The teens allegedly forced their way into a Pakenham home at on Gillian Place just after 3.30am on Wednesday 5 August and threatened the residents with a knife before demanding the victim hand over keys to his vehicle, a Victoria Police spokesperson said.
The pair then fled in the victim's black Toyota Aurion which was later sighted next day by police about 4pm at Station Street in Cranbourne.
As police attempted to stop the duo, an acting sergeant was struck by the vehicle as the offenders attempted to flee, police say.
The officer sustained a broken vertebrae and is recovering at home.
The pair were later arrested and a 16-year-old teenage girl from Cranbourne was cautioned for theft of motor vehicle.
A 16-year-old boy from Hallam has been charged with more than 15 offences including theft of motor vehicle, reckless conduct endangering life, dangerous or negligent driving while pursued by police; and intentionally cause injury.
He has been remanded to appear at a children's court at a later date.
Some of the charges also relate to an aggravated burglary that occurred in Rowville on 5 August.
Southern Metro Crime Team Detective Senior Sergeant David Cox said police had been working around the clock to bring those targeting our community before the courts.
"Our message to those committing these offences is very clear – police will continue to investigate these incidents to ensure you do not continue to inflict harm on the Victorian community," Detective Senior Sgt Cox said.
Police are investigating and anyone with information is asked to contact Crime Stoppers on 1800 333 000.