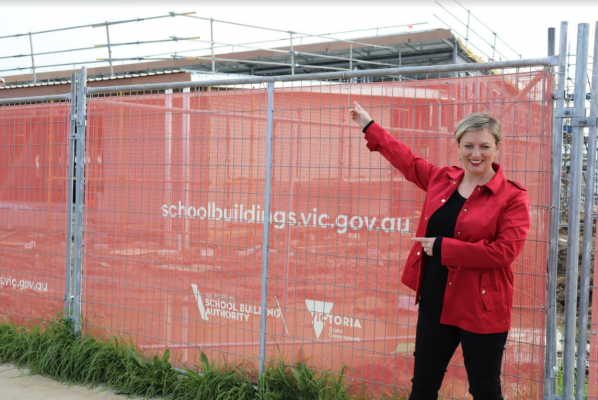 By Brendan Rees
The names of the two schools opening in Casey in 2021 have now been chosen, following input from the local community.
Cranbourne MP Pauline Richards unveiled the official name for the new school as Cranbourne West Secondary College which was formerly known by its interim name of Cranbourne
West Secondary School.
The school is among 14 new schools being built by the State Government and set to open in 2021.
Cranbourne West Secondary College is currently under construction and is set to open at the beginning of the school year.
The new school will include a visual arts building, a learning community, the science, technology, engineering and maths building, an administration building, a sports oval and two outdoor play courts.
Meanwhile, Bass MP Jordan Crugnale announced Ramlegh Park Primary School had been chosen for a new primary school in Clyde North.
It was formerly known by its interim name of Thoroughbred Primary School.
Ramlegh Park Primary School will include two learning neighbourhoods, an administration building, outdoor play courts, a performing arts and physical education building, and a sports field.
The names were chosen following community consultation and discussions with Geographic Names Victoria, with consideration given to factors including public interest, relevance to the local area, and the consideration of local indigenous languages.
Under the State Government's school building boom, a total of 100 new schools will open by 2026.
"This is an exciting step for Victorian school communities and marks a milestone in establishing an identity for their new school," Ms Richards said.
Ms Crugnale said she was "really thrilled we are that little step closer to hearing the opening school bell, welcoming foundation students and bringing together a whole new school community".