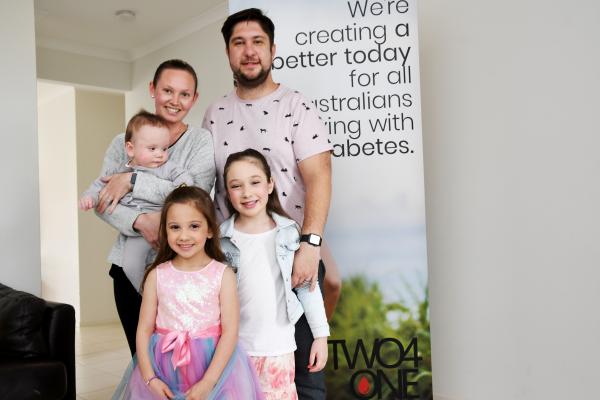 By Brendan Rees
On 22 June 2018, a spritely Willow, then aged two, was diagnosed as a type one diabetic.
She spent a week in hospital recovering while her parents Christian Gonzalez and his wife Christie learnt the essentials to keep their daughter alive.
"Never in our wildest dreams would we have ever imagined giving our little princess daily injections," Christie says.
"Once we finally got home, reality set in and, through the grieving process, we realised just how much Willow's diagnosis had affected not only her but us as well."
Today, the Clyde North couple say their four-year-old daughter is a "little legend and won't let anything get in her way of living her life the way she wants to".
And with a driving ambition to create a "better today" for all Australians living with diabetes, the couple have established their own charity named TWO4ONE Foundation in June.
"A 'better today' means different things to different people and we will listen to our community to better understand how we can help," the couple say.
While they are hopeful for a cure and support all the medical research being undertaken by other foundations and medical research bodies they "want to help, where we can".
"We want to make sure that Willow's message of resilience gets out to the masses", they said adding their main goal was to set up a Community Chest to improve access to insulin pump therapy and flash glucose monitoring.
Christie says accepting "our new norm" with their daughter's diagnosis took weeks "for the tears to finally dry up".
"I remember feeling the prying eyes of those around us just staring. The whispers and hurtful comments from people who didn't understand and had no idea what we had been through," she says.
"Now, two years on, we couldn't be prouder of our little lady and we certainly do not hide anymore. We have learnt to be strong and have taught Willow to be comfortable and confident.
"With over 1500 finger pricks, 2920 insulin injections and 121 continuous glucose sensors we try our hardest ever day to be her pancreas and ensure we are in control and not allow the disease to control her."
And if there's one thing they've learnt that is diabetes is "relentless".
"We have found that the effects of the disease not only affect Willow but my husband and I as parents and our oldest daughter as well."
But to continue to make real change and impact the couple say "we need your help".
"We need you to get involved by becoming our partners in change. We want you to get value from your contribution and feel connected to our cause and our community."
To find out more or donate visit: https://www.two4one.org.au/