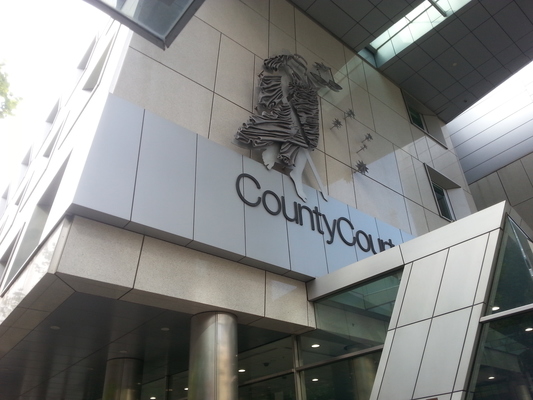 By Brendan Rees
A thug who pulled a knife on a disabled woman after she finished her shift at Casey Hospital before stealing her car has been jailed.
Darren Moyle, 45, pleaded guilty to charges of theft, burglary, aggravated carjacking, commit an indictable offence while on bail, and drive while disqualified during a Victorian County Court sitting on 25 September.
He was sentenced to four years and two months in jail.
In his sentencing remarks Judge Frank Gucciardo told Moyle: "You effectively attacked a defenceless woman while brandishing a knife and making threats to stab her."
The court heard Moyle, who had been out of jail for one month, had received treatment at the Berwick hospital in relation to mental health issues on the morning of 23 October, 2019.
After finishing his treatment, Moyle, who had broken into the Casey City Church in Narre Warren the same morning, loitered in the hospital carpark for about three hours.
As he smoked a cigarette at the emergency entrance, a 55-year-old hospital worker who had finished her shift about 5.30pm, made her way to the disabled carpark with the aid of a walking stick due to her severe Rheumatoid arthritis.
As she put her belongings in her car and sat in the driver's seat, Moyle opened the passenger door and asked her for a lift, the court heard.
She told him she was running late and asked him to get out, but instead Moyle sat in the car and continued demanding a lift.
When she refused again, the court was told Moyle reached into track pants and pulled out a knife.
"Shut up or I'll stab you," he said.
The victim screamed before Moyle snatched her keys and pushed her out of the car, which was captured on CCTV.
She landed on her shoulder heavily and passers-by came to her aid. The court heard as the victim lay on the pavement, Moyle yelled an expletive to those trying to help her.
Police found Moyle at a friend's place in Wantirna South where he was still wearing a hospital wristband.
The victim underwent a shoulder reconstruction as well as other surgeries and months of rehabilitation.
She also became "hypersensitive, hyper vigilant" in public, and was forced to rely on taxis while suffering financial insecurity the court heard.
In his sentencing remarks, Judge Gucciardo said: "This conduct was terrifying for her and she had a great traumatic impact upon her."
The court heard Moyle, a father of two and a disability support pension, had an extensive criminal history from 1992. He endured a troubled upbringing and began using speed and ice at 13 and later heroin.
"Your life has been ravaged by drug abuse and that you are at risk of institutionalisation," Judge Gucciardo said.
In addition to his jail sentence, Moyle was disqualified from obtaining a driver's licence for three years.