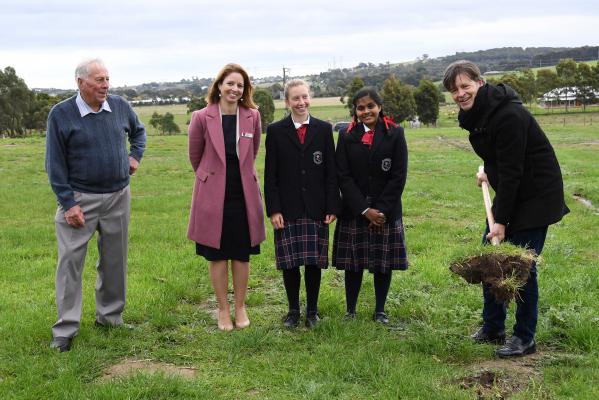 By Danielle Kutchel
Little ones in Narre Warren North will soon have more choice, with a new kindergarten set to open in 2022.
Narre Warren North MP Luke Donnellan visited Harkaway Hills College to officiate the sod-turning ceremony for the new facility on Tuesday 11 May.
The event celebrated the culture of the school, with the school choir performing a selection of songs for parents and guests.
Harkaway Hills College principal Mary Broadsmith said that the construction of the early learning centre had been much anticipated.
"Children will now be able to benefit from our unique education model focused on the development of the whole person from the age of three until they graduate in Grade 12," she said.
"We are honoured that we are going to be sharing in this journey with the families in our local community."
Construction of the kindergarten is scheduled for completion in the final quarter of 2021.
Mrs Broadsmith said the school community is very excited about the addition of the early learning centre.
"The families of Harkaway Hills College have been delighted with the news that their children can now experience the excellence of our educational model in their early years," she said.
She thanked the State Government for their involvement in the project.
The day also doubled as an official opening for the school's new administration building, the opening for which was put off due to Covid in 2020.
The State Government also provided a grant towards the construction of the administration building.
The approach to education at the Harkaway Hills Kindergarten is rooted in the belief that children benefit most when there is harmony between their two major learning environments: home and school.
The PARED model of education used at Harkaway Hills also encourages parents to be active participants in all aspects of their child's development by supporting parents in their parenting role through an ongoing programme of personal enrichment activities.
Harkaway Hills College is currently accepting expressions of interest for the kindergarten.