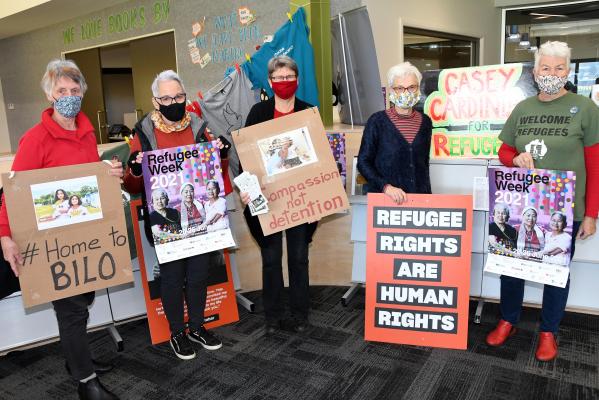 By Danielle Kutchel
Casey Cardinia for Refugees is marking Refugee Week with a stall at Pakenham Library.
The stall features information about the situation that refugees face in Australia.
Members of Casey Cardinia for Refugees will be on hand to explain a bit about what they do.
A spokesperson for the group, Margaret, said the aim of Refugee Week was to "highlight all of the amazing contributions that refugees make all over Australia and also to raise awareness about the issues facing refugees and the growing difficulties refugees face in finding protection in countries like Australia."
The group has been raising awareness of these problems for four years now, with weekly vigils in the Berwick High Street and regular letter-writing to La Trobe MP – and Assistant Minister for Customs, Community Safety and Multicultural Affairs – Jason Wood.
Members of the group also regularly attend rallies for refugee rights.
Meanwhile, for the month of June Casey Cardinia Libraries is partnering with the Asylum Seeker Resource Centre to collect donations of groceries and other essential products to give to around 1000 people per week, most of whom have no income or work rights.
Items needed include tuna in oil, tinned vegetables and tomatoes, coconut cream, hand sanitiser and soap.
A spokesperson for Casey Cardinia Libraries encouraged anyone who is able, to donate items at their nearest library location.
"Casey Cardinia Libraries are thrilled to be working with the Asylum Seeker Resource Centre helping get food, toiletries and cleaning products to those who need it," the spokesperson said.
"Please bring donations you can spare to any of our libraries."
For a full list of items required visit the Casey Cardinia Libraries Facebook page.
Refugee Week runs from Sunday 20 June – Saturday 26 June.