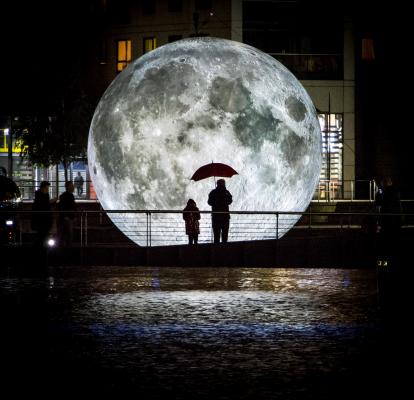 Visitors to Bunjil Place these school holidays are in for a treat, when UK artist Luke Jerram's Museum of the Moon takes over the Bunjil Place Plaza from Saturday 26 June – Sunday 4 July.
Suspended over the grand plaza area, the Museum of the Moon will be open to visit daily from 11am-9pm.
Mr Jerram's giant replica of the Earth's moon measures seven metres in diameter, with every centimetre of the spherical sculpture representing five kilometres of the moon's surface.
The installation is a fusion of lunar imagery, moonlight and surround sound composed by BAFTA and award-winning composer, Dan Jones.
Originally set to debut as part of Melbourne's highly anticipated RISING festival, the chance to get up-close with a giant replica of the moon was cut short due to Melbourne's recent lockdown.
Luckily, visitors will have another opportunity to experience the installation for ten days as part of the Casey Winter Arts Festival.
Mr Jerram – the man behind the moon – created the artwork to reconnect with the night sky and amplify the experience of gazing at the moon.
The installation has been presented in multiple locations around the world and aims to tell a unique story, through new meanings and interpretations at each location.
View the free Museum of the Moon at Bunjil Place from Friday 25 June – Sunday 4 July.
For more information visit https://www.bunjilplace.com.au/museum-of-moon