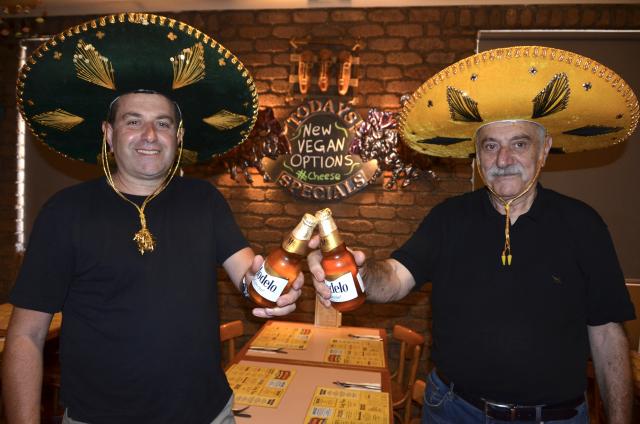 By Jamie Salter
Family run restaurant Mexican Cantina is closing up shop after 33 years and fans of the restaurant now have the chance to take home a lasting piece of the much-loved venue.
A local favourite to satisfy cravings for nachos, fajitas and $5.50 frozen margaritas, the business originally opened in Dandenong in 1988 before moving to its current home in Narre Warren.
Arthur and Taku Arzadian, along with their son Aret and his wife Izabel, proudly run the restaurant with a customer-first mindset.
But all good things must come to an end, with the family making the difficult decision to close its doors indefinitely.
Aret said he knew it was the right decision after Izabel was recently diagnosed with multiple sclerosis.
"The decision to close is mainly for the health of my wife and for my father who is retiring," he said.
"I am sad but at the same time with everything that's going on in the world, I think the timing is right for this business not to go further."
He said selling the business wasn't an option.
"The business is us – people come to this restaurant to see our family and we have generations continuing to come in," Aret said.
"If we sold the business it wouldn't be the same."
Like every hospitality business, the coronavirus pandemic took its toll on the restaurant and fast-tracked its closure.
"I don't think anyone has experienced anything like this in their lives – it was mentally and financially very difficult but we survived it," Aret said.
"All of our loyal customers would support us and we continued to provide take-away meals."
Despite the challenges of running a business, Aret said he will always have fond memories of the celebrations held at the venue over the years including proposals on Valentine's Day, birthdays, and even pregnancy reveals.
Customers wishing to dine at the restaurant for one final meal have been calling the business non-stop since the venue announced it would shut its doors.
The flood of support from the public sparked an idea for Aret to host a community event where customers can purchase the venue's Mexican memorabilia, with all the proceeds donated directly to MS Australia.
Customers can say their final goodbyes on Sunday, 16 January from 12.30pm to 3pm and purchase a takeaway margarita on the day.
Meals will not be served at the event.
The Arzadian family thanked its customers for their support over the years and encouraged them to support a great cause.
Aret, who owns restaurants The Black Toro in Glen Waverley and Windsor, as well as Sezar in Melbourne's CBD, said a pop-up Mexican Cantina may be held at the Glen Waverley site in the future.