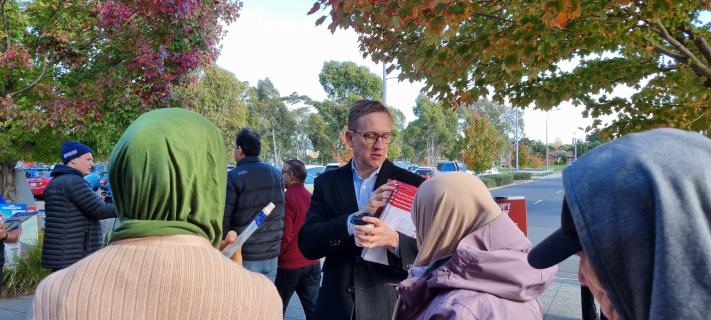 By Eleanor Wilson and Cam Lucadou-Wells
Re-elected Bruce MP Julian Hill said he plans to use the support of a newly elected Labor Government to "fix the big things" which will then benefit local communities.
Retaining the seat of Bruce despite a 5.7 per cent swing against him in the primary vote, Mr Hill said the nation needs a government that will focus on fixing big issues rather than "bribing" communities with votes.
"There's been far too much focus on pork barrelling local communities and handing out little dobs of money to bribe some votes at sporting clubs and local groups for political gain," he said.
"Our community has been neglected for nearly a decade because of the outrageous politically driven allocation of resources where the Liberal Party treated taxpayer dollars as if they were Liberal Party dollars."
Mr Hill stressed his primary role as a Federal member is to "speak for the community in Canberra and work constructively on big national issues" which will then benefit the community.
"I didn't approach the election with a pocket full of bribes, which in some ways was a risky path because if you look over the border that stuff works to a degree, but over time it becomes a cancer to our democracy when national elections become a bribe," he said.
"I'll deliver but will do it in a way that restores trust in the government.
Mr Hill said he is conscious many sporting clubs and community groups have missed out on important funding for a long time.
"We've committed to partner with Casey Council to upgrade local open spaces to support families and the Doveton Pool will be a personal priority to work with the community to secure federal support, but we'll do it in the right way," he said.
Of the Coalition's unfulfilled pledge for a City Deal between the government and South East Melbourne councils, Mr Hill said: "We said we will sit down and have a proper adult consultation with councils in the region on what a partnership might look like."
He said other priorities going into the next term of government include support for aged care, the "giant black hole" of the Department of Home Affairs, rebuilding manufacturing and transforming the nation's energy system.
" I'm very conscious of the need to support local community projects and work with the council on local priorities."
Saturday's election hit both the Labor and Liberal candidates for Bruce with a swing of almost 6 per cent against them, with many constituents choosing to support minor parties including the United Australia Party and Liberal Democrats, who saw a 4.7% and 5.1 % positive swing, respectively.
Mr Hill said he believes the swing shows there is "a clear message of discontent from the electorate and an appetite for change in how politics is done."
"Anthony Albanese as Prime Minister was clear on day one that he intends to restore the standing of parliament and I believe that a good government will win back the trust of the people," he said.
Bruce Greens candidate Matthew Kirwan said his 1.8 per cent primary swing was part of a national "green slide".
It showed Labor's policies for climate change and tackling inequality were not "progressive enough" for voters on the Left.
And with the Greens potentially holding balance of power in the Senate, there would be pressure on the incoming Government to "step up" on climate change, he said.
Monash University politics lecturer Dr Zareh Ghazarian said the ALP would be "cautious" how they work with the Greens in Parliament.
"They would be wary of the concerns in the community about Labor and the Greens working together and any political impact."
Voters' "disaffection" with both major parties had been coming for a while, with Labor's "low-40's" primary vote in safe seats Bruce and Isaacs now approaching "dangerous territory", Dr Ghazarian said.
"The major parties have been seemingly unable to stop voters leaving them and supporting minor parties.
"Their messages are not resonating and we've got a sense that voters are now confident to switch their votes to independents and minor parties."
Meanwhile, after a near wipe-out in Victoria, the Liberal Party would be reviewing "who the Liberal Party is representing and how".
Voters were seemingly turned off the Coalition by former PM Scott Morrison's self-described "bulldozer" leadership and the 'it's time' factor of going for a fourth term of government, Dr Ghazarian said.
Bruce candidates James Moody (Liberal) and Matt Babet (United Australia Party) were contacted for comment.
LA TROBE
2PP: Lib 58.6% – ALP 41.4% (+3.5%)
*Jason Wood (Lib) 45.3% (-0.5%)
Abhimanyu Kumar (ALP) 28.0% (-5.7%)
Michael Schilling (Greens) 9.6% (+2.1%)
Merryn Mott (UAP) 6.9% (+4.0%)
Hadden Ervin (PHON) 4.8% (-0.8%)
Helen Jeges (Animal Justice) 2.4% (+2.4%)
Michael Abelman (Lib Dem) 2.1% (+2.1%)
Rebecca Skinner (Fed) 0.9% (+0.9%)
BRUCE
2PP: ALP 57.3% – Lib 42.7% (no swing)
*Julian Hill (ALP) 42.3% (-5.7%)
James Moody (Lib) 29.8% (-5.9%)
Matthew Kirwan (Greens) 9.4% (+1.8%)
Matt Babet (UAP) 8.8% (+4.7%)
Christine Skrobo (Lib Dem) 5.1% (+5.1%)
Hayley Deans (One Nation) 4.6% (+3.6%)
HOLT
2PP: ALP 57.5% – Lib 42.5% (swing -1.2%)
*Cassandra Fernando (ALP) 41.8% (-8.8%)
Ranj Perera (Lib) 29.5% (-6.5%)
Gerardine Hansen (UAP) 10.2% (+4.0%)
Sujit Mathew (Greens) 8.0% (+0.9%)
Sandy Ambard (PHON) 4.3% (+4.1%)
Ravi Ragupanthy (IND) 2.9% (+2.9%)
Matthew Nunez-Silva (Lib Dem) 2.6% (+2.6%)
Gregory Saldanha (Fed) 0.7% (+0.8%)