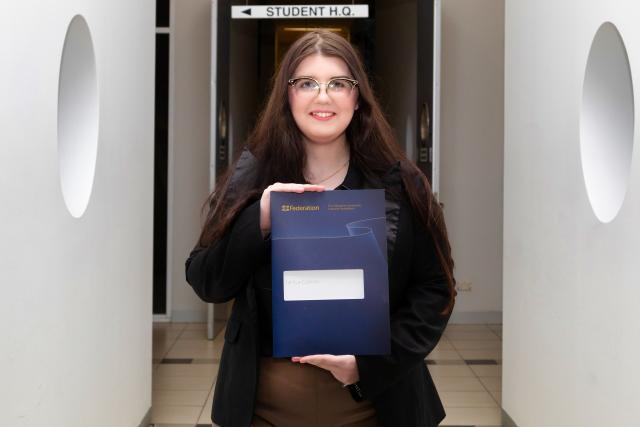 By Eleanor Wilson
Berwick student Tahliya Cullinan is one of a record number of recipients awarded scholarships by tertiary education body Federation University Australia this year.
The 22-year-old, who is halfway through a Bachelor of Psychological Science (Honours) received the Foundation Commencing Scholarship, giving her financial support for everyday costs like textbooks, computers, groceries and petrol.
Ms Cullinan said the scholarship was a financial safety net that allowed her to focus on her goal of becoming a clinical psychologist.
"A couple of years ago I was homeless and spent a lot of time couch surfing and at the start of the year I was concerned I wouldn't have a place to live [again]," she recalled.
"Not having a stable place to live left me feeling mentally and emotionally drained and I couldn't always bring my best to my assessments.
"This opportunity came and it was such a relief. All the weight came off my shoulders and I'm now able to keep my focus on my studies."
This year the University, in partnership with generous donors, is awarding 194 scholarships across its campuses totalling more than $540,000.
Federation University vice chancellor and president Professor Duncan Bentley said the scholarships would not be possible without the generosity of donors.
"Our purpose is to transform lives and enhance communities and these scholarships help to ease the financial pressure on students, providing them with the opportunity to not only succeed in their studies, but thrive within their local communities," Mr Bentley said.
Federation University's scholarship program began with four foundation scholarships in 2013 and has grown to support hundreds of students in need of assistance through the generous support of alumni, staff, businesses and community donors.