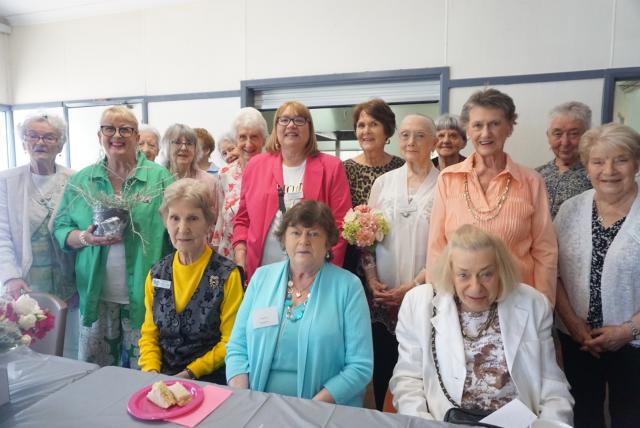 By Violet Li
When a local club celebrated its 50th anniversary, a dive into the past would strike any loyal member, or even a bystander, as inevitable for the opening speech.
While to trace the origins could be strenuous, Cranbourne & District Garden Club committee members have tried their hardest.
Research officer Marie Pazitka unveiled the history with a written record by one of the two founding members Eileen Frost at the special anniversary gathering on 9 November.
"My family and I moved to Cranbourne in 1974 and there was very little for adults and children to do in those days – it was a small country town," Ms Frost wrote.
"In 1975, I saw an advertisement in the local paper from a lady who had come down from Queensland and apparently had been in a club in Queensland."
Ms Frost went to recall the first meeting was at the lady's house and their first speaker was Barry Blyth from Tempo Two Nursery who did not remember the visit at all.
"The club struggled on for a few years until a horticultural body got involved and did a lot of advertising and a special meeting with an enormous spread for supper," she continued.
"We were at that stage in the old shire offices, but we then went to the high school.
"I became president at that time, and was president for a few years, but as usual no one wanted to take over so I resigned, which was a pity as I enjoyed the garden club."
She remembered some very good speakers and being able to get the particular plants or flowers in her own garden with the help of the club.
"Just a footnote – the lady who started with the club went back to Queensland as it was too cold in Cranbourne," she ended.
The reminiscence sparked loud good laugh among the members present.
The ceremony was followed by management reports, a draw for the raffle, and afternoon tea.
President Julie Muley said with about 30 members, the club organised a bus trip every two months and speakers would come along to share some interesting subjects.
Having been in her role for the past seven years, Ms Muley saw many people stayed and also many came, stayed for a while, and left.
"It's obvious that these days a lot of people are not being interested, especially younger people. It's just a matter of a couple of plants in a pot," she said.
But she recognised people tended to join a club after retirement, when they have more time.
"You realise that all those people you work with are not people you want to hang around," she said.
"A lot of people joined after retirement. Some come for the trips, some for the speakers, and some just to get together and have a cup of afternoon tea."
Now Ms Muley is encourage people interested to join the community. The club welcomes anyone in the region.
"We're here, and we're a great club. Our door is open, so come along and have afternoon tea with us soon," she said.
"Life can be too serious. And as you get older, it becomes more serious, I'm afraid.
"I suppose we can just get together and have a good laugh."
Cranbourne & District Garden Club meets every second Thursday of the month at Cranbourne Public Hall. Meetings begin at 1.30pm and afternoon tea is served afterwards. Previous members and new members are very welcome to drop by.