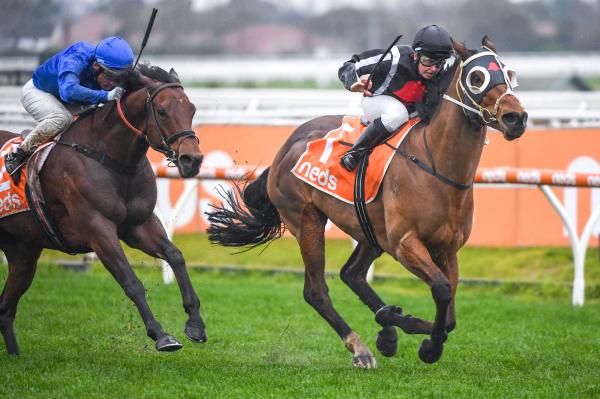 By sports editor Russell Bennett
At a time when the community has had to go largely without the thrill of cheering on its local sporting heroes, Jungle Edge – one of the region's favourite horses – has provided genuine reason to smile.
Cranbourne-based pair, trainer Mick Bell and jockey Jade Darose are just two of the key local cogs driving Jungle Edge, which thrived in the heavy conditions to win the feature at Caulfield on Saturday, the Group 3 Sir John Monash Stakes over 1100 metres.
It's hard to imagine a more popular win, and Bell told the Star News just why – with connections to local footy clubs including Cranbourne, Devon Meadows, Pakenham, Kooweerup, and Garfield.
One of Jungle Edge's owners is none other than one of the greatest local footy players to ever step foot on to a field in the south-east – Cranbourne spearhead Marc Holt.
"And he's got connections to Devon Meadows footy club, which I was involved in; and I grew up in Kooweerup and he's got connections with the Kooweerup footy club; he's got connections with the Pakenham footy club and the Garfield footy club… he's just followed everywhere," Bell explained.
"He's just made us all feel a little bit more normal in very abnormal times.
"He's a fantastic horse, and he always has a red-hot go.
"People have followed his journey all the way through. A lot of times, when he's run placings in big races, he's paid $8 for the place, so anyone who's followed him would be so far in front over such a long time. He's brought the quaddie home that many times it's not funny!"
The nine-year-old put in another vintage display on Saturday, with Darose on board, to claim the $76,800 to-the-winner Sir John Monash by three quarters of a length from Godolphin runner Viridine – boosting his career prizemoney to over $1.75m.
Bell is the first to admit that Saturday's conditions suited his charge perfectly.
"Everyone has themselves convinced that as soon as it rains, he's going to win for sure," he said with his trademark laugh.
"It doesn't quite work like that, of course, but you'd almost think that's true!"
Bell explained that every time Jungle Edge runs, he stops connections and race fans alike throughout the south east in their tracks – even Holt, himself.
"There was one time he won where Holty had already kicked eight or nine, and it came over the electronic scoreboard at Cranbourne that he'd won, and Holty fist pumped the air and kicked another two!" Bell said.
"There've been times where the horse has been racing and the crowd will turn away from watching the game and go in and watch the race on the TV in the social rooms. "He's just that kind of horse. The whole thing is a feel good story, but it's just amazing exactly how much of a feel good story it really is."
And Bell knows better than anyone just how closely Jungle Edge's fortunes are followed.
"A lot of my family live in Bendigo these days, and one of my brothers is a copper up there," he said.
"The cops have a punters club, and they don't know anything about racing but they just keep backing Jungle Edge.
"It'll be one guy's turn and they'll have a couple of hundred dollars they have to bet with, and they'll put the lot on him or take him in a trifecta. Let's just say I think I'm right if I get a ticket up that way now!"
Bell said, with Saturday's result, Jungle Edge has now saluted a handful of times at Group 3 level – in addition to numerous placings in Group 1 and Group 2 races.
"That's the thing about this horse – he always brings his 'A' game," Bell said.
"He very rarely runs poorly. He jumps, puts himself right there, and has a go.
"With his style of racing – the heavier it gets, he doesn't go any slower and it makes hard for the other horses to run him down.
"That's the basic formula, and it's just turned out that he's never won on a good track but he never saw a good track until he was in open class. He's done things like run second to Redzel on a Good 4 and they broke the old Randwick record.
"He's run against so many good horses – there's always some champion he runs into, but he sees them off. Most of them are retired or have gone to stud by now."
Bell explained his charge's longevity.
"Because I look for the soft and wet tracks, it's a lot easier on their legs and so that's probably some of it," he said.
"I never got him until he was five (and) he was well into his four-year-old year before he kicked off his career.
"It's just an absolutely amazing horse with an even more amazing story.
"When I first got him and he just started winning down here my wife (Bev) was still alive and she was fighting breast cancer, and he won a couple of races where she was able to go along. He's just a real spirit-lifter, and now he's doing it for the whole of Victoria.
"There are other parts to his story that people don't know, too.
"When we bought the horse, there was a guy named Ian Daire who went in it and he didn't tell his wife.
"It had one more start up there for the Stricklands before we bought him down and unfortunately he died suddenly of a heart attack, so Ian never got to see the horse race down here.
"His family found out they were the owners of a horse, and they've raced with that share.
"He's just brought so much joy to people, this horse. I don't say this likely – he's like a gift from God."
And Bell was full of praise for his long-time stable rider Darose for finally getting the chance to win on Jungle Edge.
"I trained part-time from 22 until my early 40s, and then I had a 14-year break but in the five years I've been back with the license she's been my regular track rider," Bell said.
"It just didn't work out that she was ever on the horse early days, and then it was hard to get her on the horse because of the types of races he ran in.
"She's always been my stable rider for my other horses, and I'd promised her a ride on Edge before he was finished but it wasn't looking like it was ever going to happen.
"She stuck solid and now she rides him the best out of anyone."
After Jungle Edge's latest win on Saturday, Bell brought up the intriguing prospect of what just might happen if he was given a chance in the latest race that's captured the nation's attention – The Everest.
"The ATC (Australian Turf Club) hold a slot and what I'm bucking for is to try and convince them to give him their slot because of all the publicity and the story that'd go with it," he said.
"I've seen the race develop because I've been there for every Everest so far. The race has captured the imagination of Sydney, so to even get a runner in it is a big thing, but one fault it has is that it's seen to be a bit elitist. If the 12 best sprinters run in it, we're there for sure but that doesn't necessarily work out to that.
"I like Sydney, but they're very parochial up there so I'm teasing them a bit.
"If the ATC gives us a slot, I'll change his colours to the big V's! Let them beat us.
"I know if he runs in it he'll run ok – it's just about getting a chance."