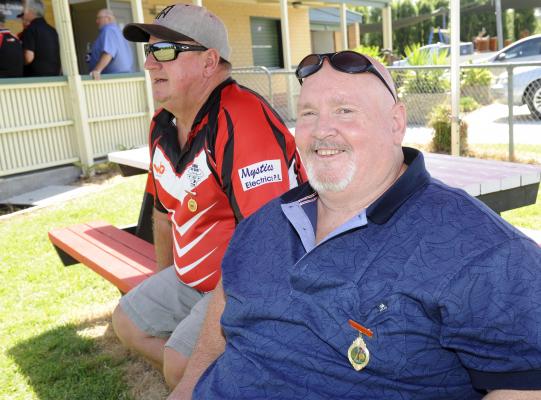 By sports editor Russell Bennett
Ian 'Cambo' Campbell loved with all his heart, and was beloved by so many in return.
That love he had for his family, friends, and the sporting clubs he'd called home was legendary, and no doubt it fueled the fire for his fight – right until the very end.
Cambo had battled serious health issues for years, and ultimately passed away in hospital on Tuesday last week. He was just 61.
Yet even in his final hours, the incredible strength of that famous ticker of his continually shone through.
Four times Cambo suffered a cardiac arrest on the Monday, only for him to fight back each time.
He fought harder than most could imagine possible, and that's because he had the spirit of all of those he'd influenced throughout the decades spurring him on.
Sporting clubs, and indeed whole communities, revolve around people like Cambo – people who get so much sheer joy – so much life – out of watching others flourish.
A Cardinia Cricket Club life member and club legend, Cambo was one who laid the foundation for the Bulls to build from.
But, truth be told, players from far beyond the Bullpen were nurtured by him – and not only as cricketers or footballers, but as people.
His involvement in the community football landscape at clubs including Beaconsfield (as a player), and later at ROC, Cranbourne and Lang Lang in an off-field capacity is also fondly remembered – particularly how he closely followed the fortunes of his nephew, Luke Rus, and another player close to his heart – one of the best players to ever lace the boots up in the region – Justin Berry.
Cambo had a guiding hand in the lives of generations of sportspeople, and many of those now lead other clubs in their own right.
He featured prominently at the Bulls' 50th Anniversary Gala in February last year – named in the club's all-decade 'Team of the '80s'.
A talented all-rounder, he won the club's bowling award for the 1983/84 season, and played an integral role in the Bulls making their way into A Grade with the 1987/88 premiership. Cardinia has remained in the top flight of the WGCA ever since, and Cambo's role as an influential coach gives a real insight as to why.
While he also played in the E Grade premiership-winning sides of 1991/92 and 1998/99 later in his career, his sporting feats went far beyond the cricket field. At one stage, he held an official javelin world record at the age of just 12.
But those he guided along their own sporting journeys truly felt his biggest impact.
Cambo coached the Cardinia juniors to back-to-back under-16 premierships in 1996/97 and 1997/98, and to this day those players proudly remember him as one of the best coaches and mentors they've ever had.
His mantra was always one of encouragement, of inclusivity, and – above all else – of having fun.
Cambo also served with distinction on the Cardinia Cricket Club committee for years – including a stint as president in the 1990s.
But so much of his work was done behind the scenes. He was a trusted selector for the teams named at the Bulls' gala function last year – including the prestigious team of the club's first 50 years.
And there's a very good reason why.
His love for the Bulls extended to his incredible encyclopedic knowledge. Not only could he remember just about every single game he played in, he would individually tailor handwritten scorecards as prized keepsakes for players who reached milestones with bat or ball.
It was his way of making sure they felt special – making sure they were truly appreciated.
And boy did they appreciate him in return.
Current Cardinia Cricket Club president Luke Turner – a life member and club legend in his own right as a wicket-keeper batsman – paid a special tribute to his great mate.
"If it wasn't for Cambo, my life would be completely different – I honestly wouldn't have had the chance to live the life I'm living right now," he explained.
The pair first met when Turner was playing his junior cricket at Tooradin and Cambo was coaching the Rythdale juniors, as they were known back then.
"It was really when he started coaching those junior interleague sides when I really got to know him," Turner said.
"He'd just want to make you feel comfortable, and spoke to you like you were just one of the boys. I know even at interleague he made it feel like we'd played our whole lives together."
It was a few years later, at the footy at Tooradin, that Cambo convinced Turner to make the move that would change his life.
"He was the main reason I came across in the first place," Turner said.
"I knew him and the way he went about things, and I thought if everyone was the same as Cambo at the club, I'd have an incredible time there.
"I think about it now, and if he didn't push me to come across to Cardinia, my life would be completely different."
Turner said Cambo's sheer love of the game, and its people, is what set him apart.
"The love he had for the club was ridiculous – he knew everything that was going on," he said.
"There was this one game where I hadn't seen him for a few months – he'd moved away – but he saw me and asked how many dismissals I had for the day.
"I said five, and he just says 'oh, that takes it to 300 then'."
Cambo knew exactly because, even from afar, he'd keep record.
He ultimately even presented Turner and champion spinner Dwayne Doig – now the Bulls' vice-president – a book outlining all their combined dismissals. It featured everything from the opposing sides, to the batsmen's names, to the runs they scored, to what round of what season it was.
Turner's partner Kim was also introduced to cricket when Cambo encouraged her to play… in a competition made up almost entirely of boys.
"He encouraged her, and just said she had the same opportunity to play as everyone else, that she had every right," Turner said proudly.
"Everyone was exactly the same at the club, when it came to Cambo.
"He treated everyone the same – with respect – and it was just such an easy time with him around."
Doig's early memories of Cambo were through junior footy at Cranbourne, and when he later made the switch to play his cricket at Cardinia, their paths crossed again.
While Doig is known by many as a champion spinner, it was during his footy career that Cambo was a particular influence.
"Cambo actually got me the job as senior playing coach at Lang Lang, and he was my chairman of selectors in 2005," he recalled.
"The support he gave me over so many years through both cricket and footy – he'd definitely meant something very special to me."
And Doig knows he's part of an expansive club, in that regard.
"What's clear through some of the Facebook stories that people have been telling about him is that he made time for anyone – he'd always put the effort into people, and that reflects on what people have said about him," Doig said.
"I just remember on the Thursday nights sitting around the selection table at the footy club – the laughs we had that year were something I'll always remember.
"I took it pretty tough once the news (of his passing) came through, because even if it was the smallest thing, he'd make the effort with people.
"The way he treated people really rubbed off on me – everyone deserves to be given some time, and to be spoken to respectfully."
Ian Campbell is survived by his wife Karen; his children Lisa, Nicole, Daniel, Ricky, Samantha, and Jamie; and his 17 grandchildren.
Due to the Covid-19 restrictions in place, sadly not all of those Cambo influenced will be there to send him off this Friday in Traralgon. But the service to celebrate his life will be live-streamed from 11am.
Head to latrobevalleyfunerals.com.au, click the link at the top of the page for 'Funeral Notices', search Ian Wayne Campbell, and follow the links.