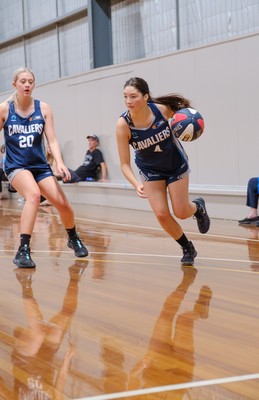 By Lance Jenkinson
When given the green light, the Casey Basketball Association should be able to take a bulldozer to the bushy terrain confronting them in the form of Covid-19.
The Cavaliers are better-placed than most local sporting organisations to be able to come through the pandemic lockdown relatively unscathed.
"I'm confident we'll be able to come back and be strong," Cavaliers basketball development manager Darren Best said.
"We have a really great product in basketball that can be played all year round."
The future proofing of Casey Basketball has been years in the making.
Well defined pathways ensure players can stay with the Cavaliers organisation and progress through the grades.
The work that Casey has been doing has been recognised by Basketball Victoria.
"Our job as an association is to prepare kids to go from domestic into our rep program," Best said.
"Every athlete, as they go through their pathway, it's really layered, so each year you get a little bit better and it builds, and that's not only your skill, it's also your knowledge of the game.
"Winning Basketball Victoria Association of The Year and then Junior Program of The Year last year was great recognition."
Casey has huge participation numbers at domestic level and a thriving elite program.
Their large membership base has meant the Cavaliers have been able to employ full-time staff, a luxury local sporting teams who rely on volunteers could only dream of.
"What it does show is the strength of our association by having full time employees," Best said.
"A lot of smaller clubs are volunteer-run, so when things like this [pandemic] happen, it can easily fall away.
"That's not a criticism, that's just a benefit of us having such a large membership base that we can fund employees."
A rich history and a strong foundation is not the panacea for Casey Basketball.
The Cavaliers have to be on their toes to get through the pandemic.
They were quick to implement a club portal that kept their members engaged, both physically and mentally, by undertaking at-home programs.
The implementation of the portal has kept 350 Cavaliers members connected with the club while on lockdown.
This is a key tool in Cavaliers player retention and development strategy.
With such strong numbers already, the Cavs didn't want to concede any ground.
"The last two years we've set records for our association with the most teams we've had," Best said.
"We're really starting to build depth."
While some associations have conceded that playing numbers might dip on the back of the pandemic, Casey Basketball is not entertaining the thought.
Best is hoping to attract new players to the sport once lockdown is over.
"I've had some conversations with people in other states who've said after their lockdown was eased and basketball came back there were actually increases in members," Best said.
"That is definitely possible for us and that's something we'll be aiming for.
"We're in a position where we always want more players to come and join, no matter what the level is.
"That's part of our mission at Casey – to provide basketball for everyone, not just the elite.
"We are rapidly growing and although we might have a short period where people might be unsure about coming back, our sport is fantastic and they'll come back once they feel comfortable with the virus."