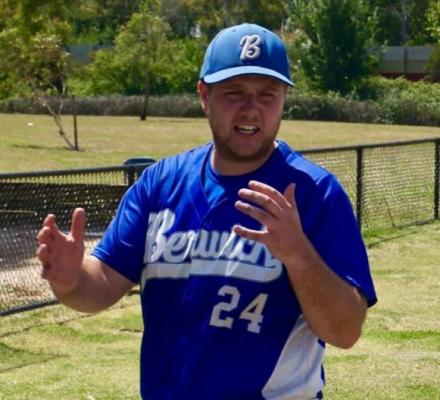 By Lance Jenkinson
Shaun Surtees is set to be rewarded with a two-year contract extension after an encouraging start to his coaching career with Berwick City Cougars in the Baseball Victoria Summer League division 1 last season.
Surtees led the Cougars to a 12-13-1 record in his first summer in charge, finishing just a game-and-a-half out of the finals in the club's second season in the top flight.
Surtees, who has enjoyed a 24-year association with Berwick City, said a new deal with the Cougars was "as good as done".
He looks back fondly on what he and the Cougars achieved last season.
"I was really pleased with the result at the end of the season," Surtees said.
"We weren't going in with any delusions of grandeur by any means.
"Our goal that we set as a coaching staff after I was appointed was let's figure out how we can maintain our position in Division 1 – obviously being the premium standard of baseball.
"We wanted to compete every week."
It was a rollercoaster ride for Berwick City supporters last summer.
The Cougars enjoyed a honeymoon period in Surtees' first season, before sputtering around the Christmas period.
They rounded out the season in impressive fashion, building some confidence heading into what should have been a positive off-season – had it not been interrupted by Covid-19.
"We had a good start to the season and then hit a rough patch leading into Christmas, so we had to have a good, hard look at ourselves because we lost a few games we weren't anticipating losing," Surtees said.
"After Christmas, we really hit our straps and ended up finishing only a game and percentage out of playing finals, so it was a really successful season overall.
"If you look at the premium standard we played at, and the results in the win-loss column, it was our most successful season as a club."
Berwick City has no intentions of making up the numbers forever.
The Cougars have grand plans to rise to the top of Victorian baseball within the next three years.
While theirs is a relatively young roster, Surtees understands the importance of the Cougars getting a taste of finals action this summer if they are to stick to that timeline.
"We still think, as a group, we've got a bit more learning to do playing in this division, but we're certainly setting our sights on pushing for a title in the next two to three seasons," he said.
"Our goal for this summer is to play finals.
"We had a lot of drive towards the end of last season – obviously being that close to the finals.
"That's a real motivator for us."
The shortened pre-season is a double-edged sword for Berwick City.
The Cougars have lost a significant chunk of time to prepare, and that could have a detrimental effect on the young, developing players in the squad.
"If this was a standard year, we would've done 14 weeks of work by now and we would've been five weeks into the season as well," Surtees said.
"It's a big thing for baseballers because they like to get as much repetition as they can before we go out and start competing for premiership points."
Where it could help Berwick City is that the lockdowns have left opposition clubs scrambling to fill the voids left by imports who most likely won't be able to make it to Australia, due to travel restrictions.
There is no such problem for the Cougars, who rely on the strength of their home-grown pitching roster, led by ace Craig Barnett, professional Cameron Gibbens, and youngster Matthew West.
"The news that we're getting is there's not going to be any imports coming through to play in the competition this season," Surtees said.
"A few of the games that we lost last season were against quality import pitchers, so it's going to test the depth of a lot of other clubs and maybe bring some clubs back to the field a bit more.
"Hopefully that gives us the opportunity to win a few more of those close games."
If Berwick City is to break into the finals this summer, it needs to improve its run support for its pitchers.
The Cougars scored the third-least amount of runs last season, frustratingly failing to convert when they had runners on base too often.
"We found ourselves leaving a lot of runners on base last year," Surtees said.
"It was something we cleaned up eventually.
"Towards the back end of the season we increased our runs for, and that was a byproduct of our success.
"It was our second season in Division 1, so I can see us improving."