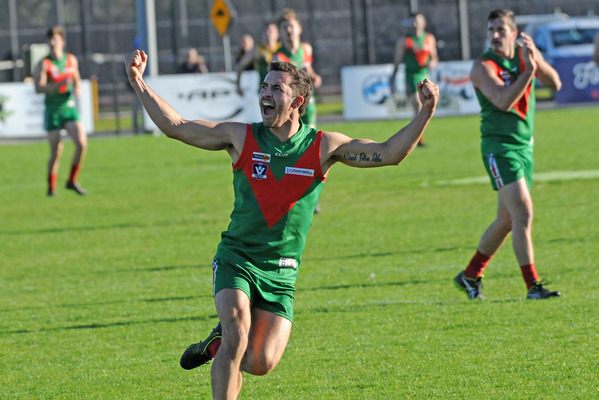 By Russell Bennett
In a whole host of ways, the 2021 footy and netball season promises to be like no other.
Players will be returning to fields and courts across the state for competition points for the first time in more than a year, and just where their sides sit in the pecking order – well that's anyone's guess.
For Lachie Gillespie and his senior footballers in the hyper-competitive WGFNC, this pre-season has a similar feel to that of 2019 – when they were entering their first, and so far only, season in their new home competition.
"It's an interesting season ahead for all of us, because we essentially skipped one, so it almost feels as though we're joining the league all over again," Gillespie explained.
Tooradin-Dalmore promises to be in amongst an incredibly congested group of clubs to have taken significant strides forward for 2021.
The thing is, that group could contain three quarters of the clubs in the entire West Gippsland competition – maybe even more. That's just how incredibly cut-throat it promises to be.
The Seagulls reached the preliminary final in 2019 – proving they belonged, straight off the bat.
But Gillespie and his group knew they couldn't just sit on their hands and hope for a repeat effort in 2021. They had to take another massive step up.
"It's been this great dynamic where it's been really positive – everyone's excited to get out there and have a kick, and just be around their mates, which has simplified things and that's been really nice," Gillespie said of the pre-season so far.
"The boys were really geared up for 2020 and felt like it was a great opportunity to take another step forward.
"Obviously making the prelim in 2019 and thinking 'how good is this!'- it was an addictive thing. Now we want that feeling again, and then some.
"We think we've got a really good foundation and that this is sustainable.
"I feel like everyone's excited and feels like we're in a great position to have some success. That may not necessarily mean winning a premiership, but it means playing finals and being in contention for sure."
While the Gulls have lost leaders and key players Matt Livermore and Nick Lang – who have returned to Emerald in the AFL Outer East competition – and Taylor Stratton, who has returned to Hastings after signing at the Gulls for 2020, they've signed a significant crop of recruits who will complement their exciting young core.
The most recent of those recruits is 28-year-old former Collingwood defender Adam Oxley.
He joins the likes of former Noble Park and Doveton Eagles spearhead Piva Wright, Narre Warren favourite son Stew Scanlon, former Bairnsdale player Tomm Bryan, and Rye recruit Brady Egan at the Gulls' nest for 2021.
Speaking to the Star News ahead of what shaped as an exciting 2020 campaign – before Covid-19 dashed those hopes – Gillespie said of the Gulls' new signings: "With all our recruits, we're just rapt with what they provide to us off-field as much as on – they're really good guys who just want to buy-in to our culture."
And nothing has changed in that regard.
"None of these recruits have played a single game for us yet – obviously because of what happened last year – but they're part of our fabric now," Gillespie told the Star News this week.
"I think it's incredible that they've played zero games for this footy club, but they're already proving to be leaders around the place. It's awesome, it really is."
Oxley, who played 34 AFL games for Collingwood between 2013 and 2018, has come across to Tooradin-Dalmore for a fresh start – through his existing connection with Wright.
"He wanted to be around a club that has a genuine family environment that he can fit into," Gillespie said.
"For us, we didn't chase him – he spoke to us. He's a genuinely great bloke – a really good guy – and he understands what country footy is and what it takes. Being there for your mates, and being around the club, is often so much more important than how many kicks you get.
"You can't have 21 blokes getting best-on, and you can't have 21 blokes kicking 10 goals each. But you can have 21 blokes out there who all genuinely buy-in and want their team mates and club to succeed. It seriously is about that trust."
The Gulls have always been renowned for their tightknit family culture, and that cohesion could be a real strength in 2021 – a season in which so many teams will be separated by such precious little.
With time and experience in his role as Gulls senior coach, Gillespie said he was able gain some valuable perspective on just what such a strong WGFNC truly means.
"We should be really proud of what West Gippy is presenting as a competition because so many people from the outside want to be a part of it," he said.
"We've got great, family clubs and people want to be a part of them – they want to stick around after a game, at home or away, and have a beer and a chat.
"We love it here, and I know all our recruits who've come in can't wait to be a part of it.
"I think the excitement of when we came into the competition, along with the (Warragul) Industrials for 2019, is the same as these great new players coming in now.
"Every time I see another recruit signing on at another club, I can't help but think that's just going to make this league even better."
Gillespie admits that, in the past, such a strong list of recruits across the competition may have made him feel a little nervous about his own side's chances – but not any longer.
The Gulls are confident in their own players' ability to stand up when it counts, and it seems 2019's result may only be the start of what they're capable of achieving moving forward.
The young age of the senior list's nucleus indicates the Gulls could be on the verge of a sustained period of real success.
Gillespie pointed to 2019 WGFNC Pakenham Gazette Team of the Year members Kris Sabbatucci, Andrew Dean, and Julian Suarez as three players who will continue to propel the Gulls forward.
And then there are the likes of the Lenders twins – Brad and Tim, Luke McKenna, Dylan Wilson, Andrew Proctor, Dylan Sutton, Nick Schumann and Cam Brown who all have genuine upside moving forward.
The likes of young guns Lewis Hill, Cooper Shipp, Brad Butler, and Josh and Jim Trezise are particularly exciting prospects to watch, with Hill also training at NAB League outfit, the Eastern Ranges.
Tooradin-Dalmore's footballers and netballers will open their season against their local rivals from Kooweerup at home on Saturday, 10 April.