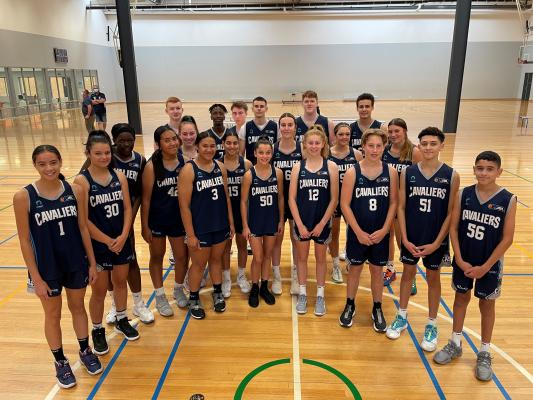 By Russell Bennett
Casey Basketball's status as a genuine powerhouse of the sport when it comes to rising stars in the south-east has just been solidified, with record numbers of athletes selected for Basketball Victoria's prestigious State Development Program (SDP).
All up, 21 Cavaliers players were chosen across the SDP age groups after impressing in the recent tryouts.
Basketball Victoria's basketball operations manager Grant Wallace said the tryouts showcased athletes who were dedicated to the sport, committed to improving their craft, and will fit in nicely into an elite training environment.
"It's always wonderful to see the talent at these tryouts and picture the heights many of these athletes may reach," Wallace said.
"The SDP is all about developing their skills and improving their basketball knowledge in a challenging and enjoyable environment."
Casey Basketball's development manager Darren Best said the number of Cavaliers players selected pointed to the program's shift in development over recent years.
"The group of athletes will serve as inspiration for the other athletes to continue to work on their game and not give up," he said.
"We have had a top-age under-18 athlete make it, and that shows you should keep working."
David Peters is both a high performance coach at Casey Basketball, and also a Basketball Victoria high performance hub lead.
He spoke about the holistic approach of the SDP.
"It now provides athletes access to strength and conditioning, physio, nutrition specialists, and mental health and wellbeing teams to ensure they are on the best pathway possible to achieve their goals," Peters said.
"The athletes have access to a number of coaches, both at their hub, as well as at SDP camps throughout the year. This allows them access to a wealth of knowledge and only gives them added exposure to the most up-to-date concepts and training methods on-court."
A number of Casey athletes chosen for the SDP spoke about just what the opportunity means to them.
"I'm really excited about the journey ahead – it will be hard work, but I'm ready for the challenge," said Callun McDonald.
Cedric Rault said he and his brother Sebastien both wanted to make the most of the opportunity as a step forward in their basketball journey.
"Casey Basketball Association has been great for us ever since we started, and we thank all our coaches who helped us along the way," he added.
Kodah Burgess said she won't take her opportunity for granted.
"I am really excited to be a part of this program – there are plenty of girls I know who missed out and I don't take that for granted," she said.
"I wouldn't be here without the support of my coaches, team mates and family. Covid was hard – I'm just happy to have the ball under my hands again."
Samantha Miller-Randle said she was excited about the prospect of challenging herself against the best players across the state in her age group.
"I know it will help me improve my game and get me closer to my dream of one day playing for my country," she said.
Finally, Josh Parkinson said he appreciated being given the chance to improve his skills under the tutelage of the high performance state coaches.
"I intend on maximising this opportunity, and working hard in order to fulfil my basketball goals," he said.