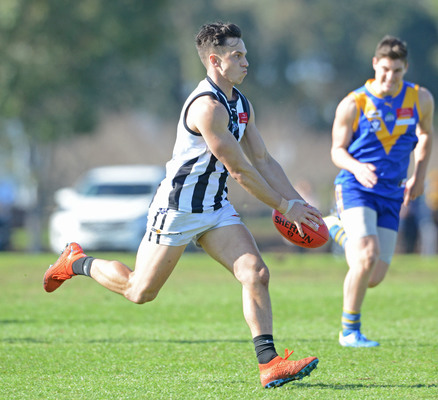 By Nick Creely
Incoming Narre Warren coach Shane Dwyer expects there to be stern competition as preparations for the AFL Outer East Premier Division season really ramp up.
The Magpies are the reigning premiers of 2019, winning the senior flag on a day that no one involved at the club will ever forget, but after the disappointment of missing a whole season of football in 2020, in a way the club is looking to make up for lost time.
Dwyer told the Gazette there is absolutely no qualms about the hunger of the group.
"The group's ready to go – one of the good things to come out of last year is that we want to get going a bit early this year," he said.
"We've had really good numbers for the senior group all the way through, so they're keen to get up and running.
"It's always in the back of your mind (not playing), you wake up and look at the news for cases and whatnot, so fingers crossed it all goes smoothly and we get more than one practice match this year.
"There shouldn't be any premiership hangover; we haven't done anything in twelve months."
The club will unfurl its premiership flag in the season-opener against Olinda Ferny Creek on Saturday 17 April, and Dwyer said the 2021 competition is going to be even, hard-fought and ultra-competitive.
"I think the season will be pretty even – Beacy and Cranny are always quality, and I definitely think the sides up in the mountains will be a lot better after a year of seeing what we have," he said.
"My reports are that most of those clubs have recruited really well, and Doveton and Pakenham are always good as well.
"I think it'll be a lot more even than the last time we played."
Some experience and iconic names have departed the Magpies through the off-season, namely one of its greatest ever players in Michael Collins and premiership skipper Dylan Quirk to Bunyip, Mitch Dempster to Rosebud, and Colin McNamara who has retired. 2018 Team of the Year member Ryan Quirk is also Bunyip-bound.
But depth is a major component of a premiership list, and the Magpies are prepared to back in its youngsters, while also adding some quality mature-age recruits.
Ex-West Coast Eagle Kurt Mutimer, a former Magpie junior, is back full-time for the club.
He'll be one of the Premier Division's biggest stars.
The gun midfielder, who played four AFL games, is a massive addition both on and off the field, something not lost on his coach.
"He'll add a different level of professionalism with what he's been through and where he's played, and he'll be able to teach and guide the young guys. So that's fantastic," he said.
"He's a Narre boy – he actually played a senior game under Chris Toner when he was about 16 or so, and he's got his two brothers down there which is a major drawcard for him.
"He'll be awesome for us both on field and around the club – I think he'll enjoy it, and be really relaxed."
Mat Suckling, an experienced state league player at VFL and SANFL level gun, has also landed at the club and will significantly bolster the midfield stocks alongside the likes of Mutimer, Brad Scalzo, Josh Tonna, Trent Cody and Nathan Foote.
"We lost those other guys, Dylan and Collo who are club legends with massive experience, so to get Matty in who is a bit older and played a really good level is great," he said.
"We'll be tapping into him a lot, but he's been really good since coming on board – both him and Kurt coming in are a big plus for us because we'll be pretty young. So we're excited."
The club has also welcomed back Mitch Cowan and Hayden Stagg from the Ellinbank Football Club.
The Magpies will have rising star and premiership player Jack Toner available when not playing VFL football this season, but Dwyer hopes the youngster will grab his chance after impressing in the SANFL last season.
"We hope he's playing for Williamstown – he had a great half year when he played SANFL, and he's going really, really well at the moment," he said.
"So hopefully he plays a full year in the VFL at Williamstown.
"If by chance we get him for a couple of games, it'll be big for us – he kicks the ball well, is really fit and tough.
Another premiership star, forward Mitch Cox is absolutely flying down at Frankston but will play with Narre when available, as well as the talented Cory Machaya.
Dwyer said it will be a luxury when they're available, but wants them to shine at VFL level.
"He's (Mitch Cox) going really well down there at Frankston," he said.
"Those VFL guys, you don't plan for them to play, but if you get them then it's a bonus.
"If you're banking on them to play, you can get in a hole.
"I just hope Jack, Mitch and Corey Machaya have really good years at VFL level, and if we get them for a few games then that's great."