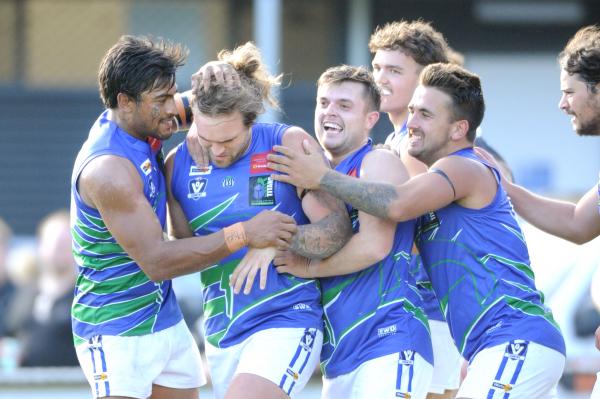 By Nick Creely
There is a steely resilience about the Berwick Springs Football and Netball Club.
Covid-19 has impacted community sport clubs immensely, but for a new senior club looking to build a reputation and find its feet, staying united has been a challenge.
But these Titans keep forging ahead despite its inaugural season in 2020 being taken away from them and just six games this season and more challenges with lockdowns and restrictions.
They are times that are building the resolve of communities, and the Titans are no different.
Titans senior coach Rodney Benstead admitted that times have been tough at the new senior club, but remains proud of everyone involved for pushing ahead with hope and is hopeful that the club and community will only become stronger.
"We can't shy away from it – we've been training at Sweeney where the lights didn't work – and getting in and out of your car without club rooms," he said.
"I'm really proud, I want to make this experience really enjoyable – hopefully this can bring us closer together, and build some resilience.
"There's no doubt it's been really difficult, and to come out on the ground on Tuesday where it was our home for the first time, it was special.
"The next phase is staying back, having a beer or a soft drink, having something to eat together – when you start a new club, when you can't do that, it takes a toll, affects your morale and spirit.
"You can stay positive, but the last two years have been difficult – starting a new club in this day and age has its challenges."
Benstead added that interacting with the community and building a presence has had its difficulties.
"It's a difficult year for all clubs, with volunteers, trainers, processes and procedures, and I guess more difficult for a new club," he said.
"We're trying to tap into the community, and it's been difficult because everyone's been impacted by this.
"Like every club, we're in the same boat."
The Titans had the bye on the weekend, but will return to the field in a special occasion on Saturday, with the club to play its first ever home game at its ground at Mick Morland Reserve in Clyde North.
Benstead said that the group – and the entire club – simply couldn't wait to get out there.
"We've had some good news, we've finally got into our new ground, so that was a real big boost for the club, to give us a home to go to has been really exciting," he said.
"Having a home, and having the players together creates real camaraderie, so we're really looking forward to it.
"We've had some disappointing results, but the players have never stopped trying, and we've had a fair few injuries, but to have a fair few home games in the back end of the year it will give a real injection of positivity."
Benstead said the bye has come at a pretty good time for his club, who sit 1-5 but have played some exciting, energetic football, with the Titans hopeful of welcoming back some of its key senior players for the home clash.
"We've had a lot of injuries, so the break away has come at the right time for us – we've lost a lot of experienced players through shoulders and so forth, we've had a bad run," he said.
"We'll get some guys back, so I'm happy as a coach to have a break and reset – it did come at the right time, and hopefully some experience comes back into the side."
Despite its fair share of injuries, with Benstead needing to cover the loss of at least nine senior players, there have been plenty of positives to build on in the back-end of the Division 1 season, which included a Round 1 win against Belgrave and competitive performances against Gembrook Cockatoo and Emerald.
"I said to the players, we were 20 points in front of Gembrook at half time, we lost a few experienced players and there was a big shift in our performance," he said.
"At this level it's the skills, and the fundamentals – we've got to look at all aspects of our game, and get our skills up to the level.
"We'll try and play some more kids, we want to build something – some of the performances from some of our senior players like Daniel Ousley, Daniel Nelson, Nick Rattle has laid some big tackles and hasn't stopped trying.
"If we can inject some kids around them and build on that, that'd be great – we just want to be competitive, and try hard every week.
"We've played some good teams, and played some young kids, but we've stuck together. We want to see improvement across the ground, and stay competitive – as I said, we were 20 points up on Gembrook, and that's the type of footy we want to get back to."