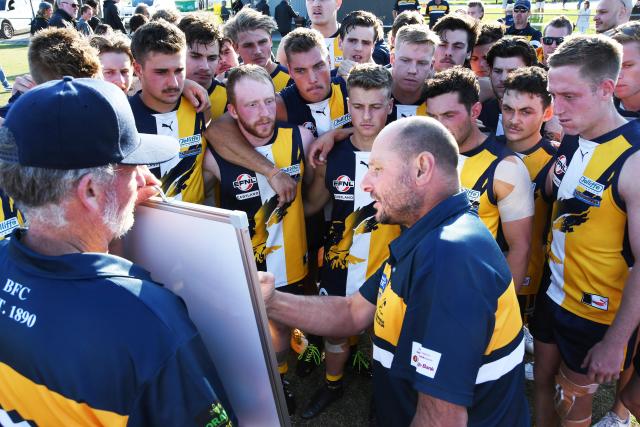 By David Nagel
There are many different ways to impact a game of football as Beaconsfield's Matt Johnson and Sam Merrick highlighted during the Eagles' six-point victory over Montrose at Holm Park Reserve on Saturday.
Johnson kick-started the Eagles 8.9.57 to 7.9.51 win with a dominant first-quarter performance, while some late desperation from Merrick – who smothered basically the last play of the day – saw the Eagles secure their second victory of the season.
Conditions were cold and windy at Holm Park, and at several stages during the match the players also had to contend with some heavy downpours.
It made conditions slippery, with getting the ball forward via any means – rather than pretty – the number-one intention of the contest.
Johnson did this superbly, via a kick off the ground, after the opening bounce of the match and then set about building his team an early lead.
The mid-fielder was everywhere early, and capped off a brilliant first six minutes of play by running on to a loose ball in the Eagles' forward line and calmly converting the first goal of the day.
Then eight minutes later, at the 14-minute mark, Johnson gave the Eagles' supporters something special to cheer about, banging home a long-range goal from the 50-metre arc – right in front of the social rooms – to get the home side off to a great start.
Johnson then turned provider, hitting returning ruckman Pat Gerdan with a delicately directed left-foot to give the Eagles a 13-point lead at quarter time.
Two goals…and feeding another…Johnson was clearly the best player on the ground in the first quarter.
Gerdan made an immediate impact upon his return, while Damien Johnston, Nick McPherson, Merrick and Declan Everett were also having an influence through the midfield.
Beaconsfield was right on top at the start of the second quarter when Matt Wilson pounced on a poor kick out of the Montrose backline and kicked the Eagles out to a 21-point lead.
But Montrose bounced back hard, and had the better of the next 20 minutes of play.
A heavy burst of rain also gave the under-the-pump Eagles something extra to think about.
But the visitors wasted their opportunities and were made to pay when Beaconsfield finished the second quarter strongly.
Hayden Brough capitalised on some great in-and-under work from Devon Smith to kick a fantastic goal at the 22-minute mark, before full-forward Josh Smith kicked his eighth goal for the season to give the Eagles a 23-point lead right on the half-time siren.
Mitch Davis and Bailey White then kicked two in three minutes for Montrose, before Jafar Ocaa crumbed front and centre, and snapped truly, to give the home side a 16-point lead at the final change.
Beaconsfield looked in all sorts of trouble at the start of the last quarter, with Davis striking again, and when White kicked another at the seven-minute mark the Eagles lead had been cut back to five points.
Lachie Valentine and Jake Bowd were holding things together in defence, while Smith was forced to ruck in the last term with Gerdan sitting on the sidelines.
Sam Mackinder then gave the Eagles some breathing room, kicking a great goal on the run to return the margin to 11 points with just nine minutes ticked off the clock.
The Eagles fought hard to defend their lead, but when Davis kicked his third for the second half – at the 23-minute mark – the Eagles were still under fire with a five-point lead.
The margin was then stretched to a straight kick, before Montrose made one last charge for victory.
But a great smother by Merrick saw the ball fall out of bounds and the Eagles hang on for a very courageous win.
Johnson was serviceable after quarter-time, but his first quarter set up victory, while Robbie McMillan and Sam Cachia joined Bowd, Johnston and Valentine in a stellar support cast.
And don't forget the last-minute smother of Merrick…because there are many different ways to impact a game of football.
The eagles face a tough challenge this week, with an away visit to second-placed Croydon.
EASTERN DIVISION ONE
RESULTS – ROUND 5
BEACONSFIELD 3.3 6.4 7.5 8.9(57)
MONTROSE 1.2 2.5 4.7 7.9(51)
Beaconsfield Goals: M. Johnson 2, S. Mackinder, M. Wilson, J. Ocaa, P. Gerdan, H. Brough, J. Smith. Best: M. Johnson, L. Valentine, R. McMillan, J. Bowd, D. Johnston, S. Cachia.
Montrose Goals: M. Davis 3, B. White 3, R. Smith. Best: B. White, J. Garthwaite, B. Schilling, M. Davis, R. Smith, A. Haining.
OTHER GAMES
Bayswater 11.5.71 v Lilydale 9.14.68, Mooroolbark 11.8.74 v East Ringwood 9.8.62, Upper Ferntree Gully 3.4.22 v Croydon 16.9.105, Mitcham 12.11.83 v Wantirna South 11.11.82.
LADDER
Mooroolbark 20, Croydon, East Ringwood 16, Mitcham 12, Wantirna South, Montrose, Bayswater, Beaconsfield 8, Lilydale 4, Upper Ferntree Gully 0.
FIXTURE – ROUND 6
Croydon v Beaconsfield, Upper Ferntree Gully v Mooroolbark, Lilydale v East Ringwood, Montrose v Mitcham, Wantirna South v Bayswater.