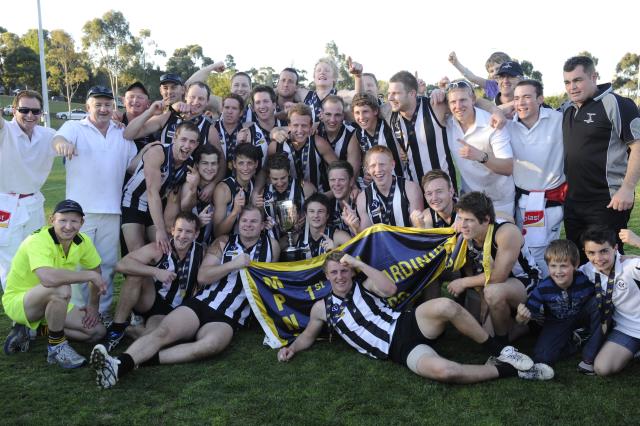 Narre Warren Football Club will today celebrate its emphatic 2012 Casey Cardinia Football League premiership over Cranbourne.
The Pies secured football's ultimate glory in a genuine shoot-out, out-firing the Eagles 22.13 (145) to 19.9 (123).
The celebrate the occasion; here is the match report from Sports Editor DAVE NAGEL back in 2012…
"Cheer, cheer the black and the white."
The opening line of the Narre Warren Football Club theme song has never been sung with more conviction and more relevance after the Magpies most magnificent 22-point victory over Cranbourne in the Casey Cardinia Football League grand final at Edwin Flack Reserve on Saturday.
The win gave the Magpies a remarkable five senior premierships in seven years and confirmed they are the absolute benchmark club from around the region.
This was the bravest of come from-behind victories, 30 points down against a formidable opponent half way through the second quarter, the Magpies dug deep to find something special when all looked lost. Sound familiar.
This club has that unique something…something that brings people together for the common cause…unity, spirit…something you can't smell or touch…but something you can certainly feel.
When Magpie coach Chris Toner asked for a real Narre Warren effort at three-quarter time in Saturday's season decider, you almost knew what was coming.
Captain and now five-time premiership player Michael Collins did his best to explain that special something.
"It's something that's been built," Collins said.
"A lot of us started together in 2004 and we were always knocking on the door. We just kept working hard together, and when we got that first one, (2006) it just builds belief.
"It just keeps carrying on through now, our juniors are so strong and it's a belief that's just instilled in the whole club now. We lost the grand final last year and it's a hurt that never goes away, you never want that feeling again."
If Narre's spirit has been built, then outgoing president Kim McGill has been the architect of the entire project.
McGill, then a player's son, was in nappies when the Magpies won their first premiership in 1957 and has now presided over five of the club's eight successful campaigns.
"It is a special place," McGill said from a jubilant change rooms after the match.
"We've got quality people right through this club and it's a credit to every one of them that we're here today.
"There's so much hard work that goes into building a successful club and everyone involved needs to be congratulated. I couldn't be more proud right now.
"The coach Chris Toner has done such a great job; he went away from the club and just came back so determined.
For Chris to bring back this premiership is just fantastic."
Toner's heart was pumping out of his chest on his proudest day in football.
"Yeah, this is it actually. We had a formidable opponent who has been dominating for a couple of years now," Toner said.
"They've taken footy to a standard higher than what it's previously been, we had to get to that this year and, to our credit, we've got there and then gone that little bit higher.
"I'm just proud to be involved in such a powerhouse club. We owe a lot to Kim McGill; he's taken this club from where it was to now needing a new trophy cabinet.
"You can't describe how we're all feeling right now."