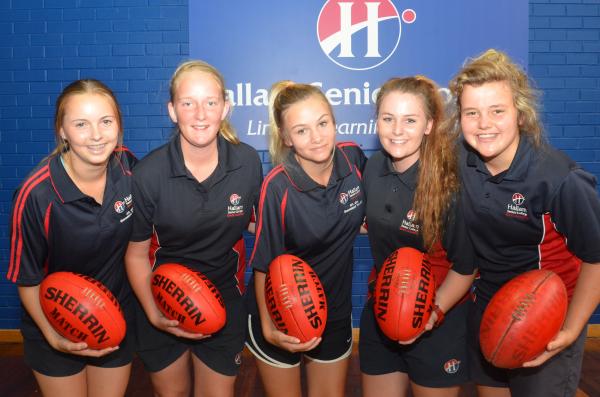 IT MAY not be as easy this year, but with Hallam Senior College's girls football depth, head coach Brett Alexander believes their tilt at a fourth successive schools championship is right on track.
The school announced its on-field leaders and squad this week with the co-captains – Rachel Hunt and Lauren Hutchinson and the leadership group of Brittany Moroney, Brittany Read and Karly Tapner – all experienced campaigners in the South East Juniors Youth Girls interleague team.
"It feels amazing to be able to encourage the girls and support them and they can look up to me," Hunt said.
"It is great to be able to lead the girls and help them with whatever they need," Hutchinson said.
Alexander said the team will feature a number of new faces, with its top-age superstars like Ellie Blackburn graduating last year.
However, she still believes Hallam is at the top of the ranks.
"We'd like to defend the title for the fourth year running," Alexander said.
"Karly Tapner, these two girls (Hutchinson and Hunt), some of the new girls – Amy Barnes, Cassandra Meads, Brittany Wood, Cody Angelis – we've got 25 girls in the squad this year – with 13 new ones.
"It will be the least experienced we've ever been – replacing the girls we had last year you'll never be able to, but we just hope to have fun and encourage the girls and make them into better and more experienced footballers."
The Hallam side will also attempt to defend its Herald Sun Shield title, at this year's tournament in Ballarat.
Hallam Senior College – 2013 Senior Girls Football Squad
Lauren Hutchinson, Rachael Hunt, Jenna Edwards, Lauren Hojnacki, Haley Certoma, Brittany Partington, Madeleine Wells, Karlee Dale, Namo Manases, Cassandra Meads, Kirralee Evans, Ashley Edwards, Elise Robinson, Madeleine Martin, Bobbi Pollard, Karly Tapner, Brittany Wood, Toni Black, Ebony Hobson, Brittany Moroney, Brittany Read, Katie Angelis, Amy Barnes, Laila Husen and Courtney Robinson.
– JARROD POTTER