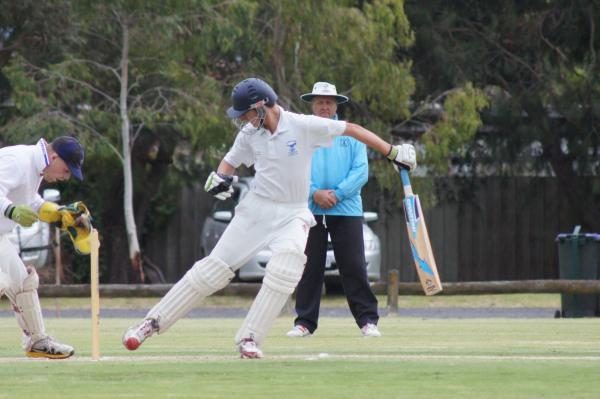 LYNDALE (1/102) has all but got their hands on the Turf 2 premiership after skittling Cranbourne (160) in wet conditions at Alex Nelson Reserve.
The Eagles lost wickets in rapid succession and were unable to mount enough of a defence against Lyndale's Mick Gallagher (6/43).
Captain Rob Cleland (35) top scored for Cranbourne, posted what could be a crucial 32-run eighth wicket stand with Akaati Pupuke (17).
At the top of the order, Ben Maroney (34), got a start but was stiffly dismissed LBW by a contentiously high ball and Dan Diwell (18) got his eye in before getting caught off Carman Mapatunga (1/38).In reply, Dale Tormey (57 not out) and Jaime Brohier (39 n.o.) are guiding a 93-run partnership towards victory, with the only wicket snared by Te Ahu Davis (1/11), who only bowled 1.4 overs before leaving the field. Lyndale needs 59 runs for first innings points.
TURF 1
Buckley Ridges (3/162) is well placed for a shot at the title, with Daniel Watson (87 not out) and Greg Todd (54) eking out the runs against Mordialloc. Early wickets of Tom Rowe (9) and Suren Ekanayake (1) halted the Ridges' progress, but the middle order Todd/Watson partnership reaped 136 runs before Todd was finally dismissed after a gallant 163-ball innings via Lance Bence (1/33). Chathura Athukorala (2/49) claimed the other two scalps.
TURF 3
Most of the Turf 3 grand final will be played this weekend as only 26 overs got under way at Hallam Recreation Reserve between Buckley Ridges (2/67) and Hampton Park. Simon Fonceca (24 n.o.) is the best placed of the Ridges' contingent.
TURF 4
Coomoora's (97) hopes of promotion are all but over after being completely skittled by Mordialloc (5/105), led by Tim Wighton (8/53). In reply Cameron Tomkinson (46 not out) and Liam Carrison (36 not out) are charging the total beyond the reach of the Kangaroos. Chris Konings (3/42) is the best Coomoora bowler so far.
TURF 5
Narre North (90) and Lynbrook (5/46) both suffered in the conditions at Carroll Reserve as it was a feast for the bowlers. Suhayl Khan (27 n.o.) and Ali Najibi (19) proved the only fighting Foxes as their team mates succumbed feebly to Lynbrook captain Shane D'Rozario (5/32). The Lynbrook reply was equally as disastrous with Amit Sirohi (31) the only batsmen to get a start as the rest fell cheaply. Lynbrook requires 55 runs for first innings points.
– JARROD POTTER