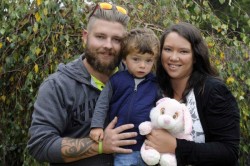 By LACHLAN MOORHEAD
IT WAS two years before Jess Yolland put pen to paper.
It's now almost three years to the day since she lost her baby daughter.
Jess' story began in 2012 when she was 23 weeks pregnant and diagnosed with pre-eclampsia. The disorder claimed the life of her daughter, stillborn on 12 April that same year.
Her name was Hailey.
"A lovely nurse came and escorted me into an ultrasound room and looking up at the screen I could see her (Hailey)," Jess said.
"The nurse then told me, 'I can't seem to find her heartbeat. But I'll have a doctor come in and double-check as I don't usually perform ultrasounds.'
"I started to panic. This couldn't be happening.
"I then was introduced to a Dr Kelly. After looking at the ultrasound, she told me 'I'm sorry Jess, your baby has died.'
"My stomach dropped, my heart dropped, my tears dropped, it was like this big truck had just hit me and I'd been robbed."
Two years after she and her partner, Dan, lost Hailey, Jess sat down to write about her tragedy. She was ready to put her unimaginable feelings into words.
Pre-eclampsia is a pregnancy disorder resulting in high blood pressure, puffiness, and an excessive amount of protein in one's urine which can result in impaired liver function and kidney dysfunction.
The illness can become a lethal risk for the baby and the mother herself.
"It had killer her, and it was killing me," Jess said.
"It affects the organs, it's a nasty disease. I then had to deliver her at 24 weeks.
"I was in hospital for another four nights. I still had pre-eclampsia six weeks after I had her, and the only cure is to deliver the placenta.
"In my case, I delivered the placenta and the baby but I still had 100 times the normal amount of protein in my urine."
It wasn't long after Hailey's death that Jess fell pregnant a second time and was again afflicted with pre-eclampsia. At 29 weeks, Jess had an emergency Caesarean and her baby son, Blake, was born in February 2013.
Both mother and son are healthy.
Between giving birth to her children Jess had joined the Australian Action on Pre-eclampsia (AAPEC) group, but it wasn't until last April, when she was comfortable enough to share Hailey's story, that Jess felt she could be more active in the movement.
"It did take me two years to write Hailey's story on paper, it was hard but last April it was her birthday and I felt I needed to do more," said Jess, now the publicity officer for AAPEC.
"I messaged the vice-president and president of AAPEC – we had met in hospital – and I said I wanted to do more, please let me know if there's anything I can do.
"A couple of months later the publicist position came up and I thought, I've got to do this."
For more information, visit AAPEC's Facebook page at www.facebook.com/pages/Australian-Action-on-Pre-eclampsia-Inc-AAPEC/7027945126.