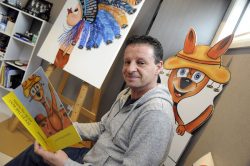 By Cam Lucadou-Wells
Writing children's books is both a service and therapy for Clyde North author and illustrator Chris Mawson.
His children's tales such as Rocky the Roo And The Big Bush Fire reveal little of his painful recovery from post-traumatic stress as a former paramedic in Perth, WA.
The stress was "part of the job" that wore him down for 15 years.
He and his colleagues endured violence from ice-affected patients, attended murder scenes with the strain of mixed late shifts. There was little wellbeing support for WA paramedics at that stage, he says.
It led him into a dark, isolated place: constant night terrors, hypervigilance, sleepwalking and three suicide attempts.
"I hated myself," Mr Mawson says. "I didn't want to be here.
"I lost five colleagues to suicide."
Looking back, he urges emergency workers to speak up if they're not coping.
With the help of his wife, the way back for him was through a year of trauma therapy with a psychologist.
He then used art therapy and wrote a powerful, honest memoir on his traumas, Broken: A Paramedic's Battle with PTSD.
It's taken him three years to claw himself to the stage where he can take part in daily life.
He now paints caricatures on commission, paints and writes childrens books, as well as writing an update sequel to Broken.
The self-published memoir, now on its second print run, has "pretty much gone worldwide", Mr Mawson says.
"I've had a lot of interest from paramedics, police officers and fire-fighters in the US and England.
"They say thanks for speaking out for me.
"It's changed their lives just by realising they are not on their own."
Mr Mawson became a paramedic because he cared. He came from a loving family and he wanted to save people's lives.
He feels his children's books with funny, positive messages do a similar deed.
Rocky the Roo bounds for help when confronted by danger or a dinosaur learns to be patient as he makes mistakes.
"They all have morals behind them. They show there are storms in life, but you're not alone.
"It's not just adults that struggle but kids struggle too."
Rocky the Roo and The Big Bushfire will be launched at Berwick library on 7 October, 10.30am. The event includes author signings, balloon artists and face painting.
Mr Mawson also sells his books and artwork at Akoonah Park Market every Sunday.