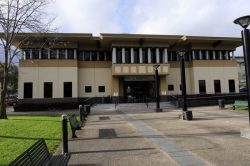 By Cam Lucadou-Wells
A Narre Warren man has been convicted and ordered to do community work after punching a nightclub patron five times in the face while in a drunken rage.
Kurt Hoareau, 23, struck the victim at Empire nightclub in Narre Warren in the early hours of 12 November after telling the victim to "f*** off" as the victim filmed next to him.
The victim says he told Hoareau to "suck my d***", police prosecutor Senior Constable Jaimie Jeffs told Dandenong Magistrates Court on 30 October.
The victim said he was then punched five times "really hard" in a flurry of uppercuts and lefts and rights.
He suffered a deep laceration to his right eye, a chipped tooth and a cut to his chin.
Hoareau, charged with recklessly causing injury, later told police he had been so drunk he couldn't recall the incident.
He first "knew" when friends told him about the fight the next day.
A defence lawyer told the court that Hoareau felt "genuine remorse" and expressed embarrassment and shame about his "out-of-character" act.
The "once-off" incident was "best described as a moment of madness", the lawyer said.
"This will never occur again," the lawyer said.
Hoareau, who had no criminal priors, completed an anger-management course after the assault.
He no longer goes to nightclubs, and cut his drinking to no more than two beers, the lawyer said.
Magistrate Pauline Spencer said she contemplated jailing Hoareau but for his age, remorse, early guilty plea and frank admissions.
The victim would have been psychologically as well as physically scarred by the bashing, Ms Spencer said.
"These type of assaults where young men are drinking to excess and are then getting into … physical altercations are a real plague in our community.
"We all know those stories. You're lucky that having punched this person five times to the face that it's not more serious.
"We have to be clear to young men that this behaviour is not acceptable."
Ms Spencer said Hoareau seemed to be "waking up" after going out too much and being immature.
"This thing has been a learning experience for you."
Hoareau was ordered to do 200 hours of voluntary work as part of a 12-month community order.