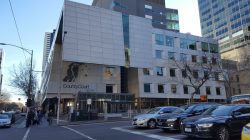 By Cam Lucadou-Wells
A trafficker caught with $25,100 cash in a cardboard box and huge quantities of drugs in a rental car in Endeavour Hills has been jailed.
Daniella Del Nigro, 28, told police that she was collecting money from a friend in the residential street before she and the Hyundai Accent were searched on 10 October last year, the Victorian County Court had heard.
Police seized a commercially trafficable quantity of meth (135 grams), as well as large hauls of cocaine (32 grams), Xanax and ecstasy and pharmaceutical tablets.
Chief Judge Peter Kidd said the accused – who pleaded guilty to four charges of trafficking – was "actively involved in selling drugs".
He accepted the former Chapel Street fashion-store owner's heavy drug habit fuelled the deals, though that was "no excuse".
By 2016, Del Nigro was leading a "chaotic" lifestyle, using drugs daily while living in the rented car for a month.
Before her arrest she had been charged with drug-impaired driving and drug possession.
Del Nigro received some credit at the Victorian County Court for her "in some ways exceptional" rehabilitative efforts while on bail.
It included seven months in residential rehab and a transitional house, random drug testing, and complete abstinence from drugs.
Chief Judge Kidd was "as confident as I can be" in Del Nigro's rehabilitation prospects as a recovering, serious drug addict.
Her efforts warranted a shorter than usual non-parole period. Her early guilty plea and remorse, particularly for the impact on her parents, was also noted.
But her offending was too significant to warrant a community corrections order – on top of jail, the judge said.
Del Nigro was jailed for up to four years, two months with a minimum 22 months.