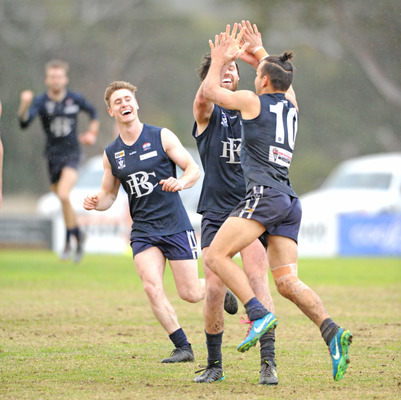 By Nick Creely
SOUTH EAST FOOTBALL NETBALL LEAGUE
REVIEW – ROUND 10
Defence has been the cornerstone for Berwick's success, it's made them the toughest team to face for the past year.
While the Wickers still sit in third after a grinding, fiercely fought 8.7 (55) to 2.5 (17) win against Cranbourne on Saturday at Edwin Flack Reserve, the very side that inflicted Narre Warren with its first loss of the season, their defence is shaping superbly once again.
In the past fortnight, the Wickers – despite the weather – have conceded just four goals against two quality opposition in the Eagles and Beaconsfield, and average just 45.6 points against per game this season, the clear standout.
In their premiership year, the Wickers averaged 44.62 points against per game in the home and away season.
After conceding the first goal of the game on Saturday after Shaun Marusic drilled it through from 50-out, Stewart Kemperman's side conceded just 11 more points for the entire match, in a defensive masterclass reminiscent of their 2017 glory.
Kemperman lauded his side for their defensive efforts, saying it was more than just the six that make up his backline.
"Our defenders work incredibly hard, but across the ground we defended really hard, and that was back to our best in that aspect," he said.
"Big Jo (West) did another great job on (Marc) Holt, so he's been outstanding, and to have the likes of (Michael) Riseley, Ash Smith and Reece Piper in your back six it certainly makes it easier to coach.
"But it was a big effort defensively across the ground, not just the back six."
In what Kemperman describes as a "tough" day to play football in another bout of wet weather football, the Wickers couldn't hit the scoreboard in a meaningful way in the first term despite having their chances, the midfield superstars in Madi Andrews, Bryce Rutherford and Travis Tuck were certainly on top of in-form trio Ryan Jones, Shaun Marusic and Ryan Davey.
"There was a strong, blustery breeze, and they were able to go coast-to-coast and Marusic kicked a goal, and from there, we probably knuckled down a bit, and were able to wrestle back that momentum," Kemperman said of the first half.
"We ended up having a couple of scoring shots, but it was in really tough conditions – we went into quarter time down, but thought we competed pretty well, and adapted well enough, we had to just take it into the next quarter and capitalize.
"We adjusted a few things up forward, and when you get those things right, it helps your structure all over the ground, and we were probably fortunate when Troy Tharle went down with an ankle, and big ruckman Michael Wenn went down, and it helped us control the midfield and ruck battle to a degree."
There was an emotional filled melee at half time between the great rivals after Wickers' forward Harry Money kicked into the man of the mark on the siren, sparking all players from both sides to converge into the forward pocket for a couple of minutes after what was a niggly first half.
The Wickers held firm in a splendid final half with plenty of feeling between two great sides, with the home side kicking a further six goals while restricting the Eagles to just one more through Marc Holt, who was handled superbly by star defender Jo West.
Kemperman praised his side for their fight in a win that could really kick start their premiership defence in a meaningful way.
"The conditions were quite testing with all the rain we had, and it was an enormous effort from the guys, and one in the context of the season that gives us a real boost," he said.
Beaconsfield, meanwhile, is comfortable with where his side sits in the SEFNL pecking order this season despite sitting fourth on the table.
The Eagles bounced back from two consecutive losses against Cranbourne and Berwick, to register a 53-point win over Officer at Starling Road on Saturday, 13.11 (89) to 5.6 (36).
Now with a 6-4 record, Eagles coach Leigh McQuillen said that despite the previous two weeks, he believes his young side are well placed.
"Yeah, we're happy (with how the season is going) – we should have probably beaten Cranbourne a couple of weeks ago, but Berwick ran all over us last week after Scott Meyer went down," he said.
The Eagles were determined to bounce back and make a statement with Meyer, the competition's premier ruckman out with a leg injury, as well as an injury to star spearhead Nathan Langley early in the game, giving the Roos a sniff.
"Against Officer, I said to the boys that if we put our heads down and treat it like any other game, you're going to get results, and that's what we did on the weekend," McQuillen said.
"Minus Scotty (Meyer), and (Nathan) Langley getting injured early in the game, we still had a good performance."
After quarter time, the Eagles slammed on 12-goals to five in the wet and slippery conditions, with young gun Riley Verbi starring with four majors himself.
Down at AJ Robinson Reserve, a frightening first half under lights by Narre Warren inflicted Doveton with a massive 143-point loss, 26.15 (171) to 4.4 (28).
It was a special occasion for the annual Indigenous senior match, and Matt Shinners' side proved they were up for the fight from the outset after being inflicted with their first loss of the season last week against Cranbourne, with Aaron Wilson converting the first major of the game in the opening minutes.
The Doves were jumped by a side on the complete opposite end of the ladder, conceding nine first quarter goals while being unable to score a point.
The dominance of the Magpies' glittering forward line in Wilson, Trent Shinners, Nick Scanlon and Stewart Scanlon proved too much for the young Doves to contain, piling on another nine goals to take an astonishing 102-point half time lead.
The top-of-the-ladder Magpies did slow down once the fizz came out of the game, booting eight second-half goals, with the Doves showing some great signs with a couple of goals themselves.
Once again, the Magpies spread the load in the forward half, with 13-individual goalkickers, including a bag of five by Wilson, and multiple goals to Shinners (three), Tom Miller (three), Nick Scanlon (three), Mitch Cox (two), Stew Scanlon (two) and Collins (two).
Tooradin-Dalmore, meanwhile, still has a heartbeat in the 2018 season, with a gritty 19-point win over Pakenham in blustery conditions on the Westernport leaving them within striking distance of fifth spot, 10.9 (69) to 6.14 (50).