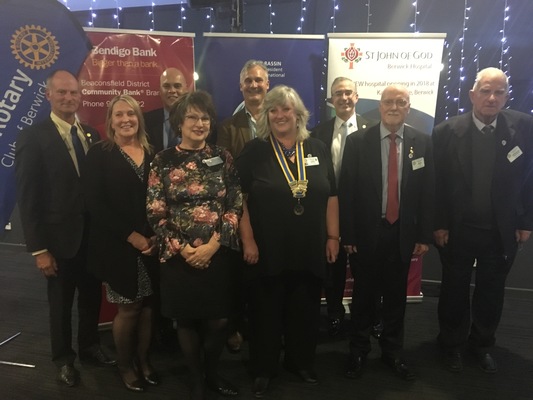 By Brendan Rees
Lea Paton has taken over the reins as president of the Rotary Club of Berwick during a changeover dinner held on Wednesday 4 July.
Ms Paton was humbled by her induction during her speech, saying "I'm looking forward to leading the club in a fun-filled, lighthearted year of inspirational service."
She is also the first female president at the club to be elected in a decade.
"When I joined the Rotary Club of Berwick six years ago I had no idea I would be asked to be on the board within the first year, so the last thing I expected was to be standing here as president," she said.
Ms Paton thanked the members of the club for their support and faith in her: "I will do my best to live up to your expectations in the year ahead of me.
"I'm anticipating of the continuation of our tried and true projects.
"It's not my intention to overload members with extra projects but I'd like to try a few new things, centred around looking after the onus of our community," she said.
Ricardo Balancy reflected on his past year as president, addressing more than 87 guests at the 57th changeover dinner at Holm Park Reserve Pavilion.
"It's been an immense pleasure, privilege, honour to serve as president of this great Rotary Club," he said. "I've had a great board, some very good people, and I can't thank them enough for all their efforts."
Mr Balancy said delivering positive outcomes for the community was a whole club effort.
"I think we'll definitely proud, looking back on the last 12 months as to what we can achieve and we've done some great things as a club," he added.
Delivering mental health projects would also continue to be a priority, Mr Balancy said. "We can see how it's making a difference and changing lives."
He added $75,000 was distributed to the community in the past year. "We have little things like coin collection at Coles, which is a simple idea…we are raising $3000-4000 a year, just something little like this and that's helping make a difference in the community."
The club also welcomed its newest inductee Adwin Town, who is also the club's sixth member for 2018.
"It is my privilege and honour to induct you as a member of the Rotary Club of Berwick," Mr Balancy said.
"May you be stimulated by friendship defined here and may we in return know you to be added source of strength to our club."
Past president John Rosenthal proposed a toast to Rotary International and its founding member Paul Harris.
"We have done a great deal of programs, following the Rotary way of both internationally and locally and members should be proud of the work done in the name of Rotary," he said.
Meritorious awards went to members Terry Carmichael, David button, Sandi Tarant, Gus Dominguez, Tim Moore and Viv Armstrong.