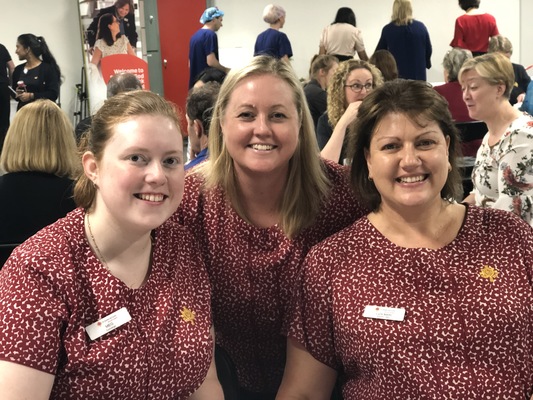 Celebrations were held on Friday 18 January to commemorate the first birthday of the new St John of God Berwick Hospital.
The first baby born at the new hospital, Andy Gaspardis, celebrated his first birthday as a special guest at the evening event.
In the year since the award winning hospital opened, the team have accomplished much to be celebrated.
"Years of meticulous planning resulted in our beautiful new hospital which has been a huge success," hospital CEO Lisa Norman said.
"It's been incredibly satisfying to watch as our dreams come to life and offer our community an enhanced health care service.
"Additional beds have allowed us to double the number of patients we can care for and new services have allowed us to offer a more complex range of health care."
New services have included the opening of the first Intensive Care Unit in the region, which allows the hospital to accept more complex surgical and medical patients and care for them closer to home.
The introduction of cardiac services has enabled doctors to insert cardiac stents and pacemakers in the low dose Siemens catheter laboratory.
A new Rehabilitation Unit gives patients recovering from surgery, illness or trauma the opportunity to recover and regain strength, under the same roof as where they underwent surgery or medical treatment.
Now employing over 700 caregivers with accreditation for over 560 doctors, a recruitment campaign saw over 300 new employees join the workforce as the hospital grew from an 82 bed campus with four operating theatres to a multi-level 202 bed hospital with eight operating theatres and six birth suites.
The hospital also invested in a number of new medical technologies, with the acquisition of a Holmium Laser (MOSES) so that urologists can operate on kidney stones and enlarged prostates.
The breast surgeons gained a Hologic Imaging scanner, which ensures they have good margin clearance when removing breast cancer in theatre.
In 2019, the robotic surgical program will expand to include total knee replacement surgery.
Well times with the opening of a new Orthopaedic and Spinal Unit opening on 4 February on Level 4 of the Kangan Drive hospital.
The hospital is working with surgeons to consider future robotic solutions that will enable the most contemporary surgical options for patients.
In 2018 the hospital gained two awards, the first was an award for the Best Hospital Development Project presented in Daring Harbour, Sydney at the Australian Healthcare Week Awards.
Later in the year, the hospital was recognised again at Crown Palladium gaining a Worksafe Award for Consultation and Liaison in Hospital Design.
The hospital is dedicated to meeting the health care needs of our community and plans are underway for the next stage of redevelopment as the hospital looks forward to offering more specialties and services into the future.