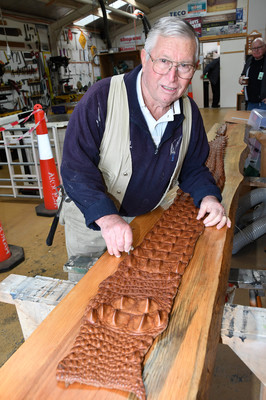 By Brendan Rees
The boys at Akoonah Park Men's shed in Berwick certainly have their work cut out with this whopper.
Their latest project – mounting the skin of a three-metre crocodile's backstrap tail onto timber – would even be one to impress Crocodile Dundee.
The owner of the tail, Ken Secretan, said he got the tail from a mate who owns a crocodile conservation farm near Rockhampton.
Ken, eager to decorate his back patio in Beaconsfield, said he was "over the moon" when his mate told him he had the "very thing" for him to put on his wall. "And he said 'I'll give it to you.'"
He mate, John Lever, told him he had a dozen of the crocodile skins "ready to go."
"I gratefully accepted it, and thought 'What am I going to do with it? How can I do it?'"
"I thought of the Men's Shed so went down there and told them … they were very excited about it," Ken says.
"I haven't seen the tail mounted as yet but I believe it is very close to it."
Through the help of his son, Ken found a timber yard in Brunswick where he picked up a long piece of hardwood.
"Because it most of a whole tree, fairly long, we chopped it up," he explained, so he could fit in his car.
"The wood is exactly the size I need for the tail," he says.
Kens says he's looking at having a second piece of timber varnished so he can display photos of his adventures with crocs.
"I've carted whole crocodiles with him (John Lever), male crocodiles from Darwin back to Rockhampton," he said.
"In Queensland, they can't legally catch crocs … he's got agreements with other territories, Darwin and so on where they can."
Ken says sometime rangers catch crocs if it's in a dangerous area and re-homed on farms for safe-keeping.
"John and I will go up there, pick them up, two at a time, and cart them back because they're good breeding stock."
His mate's farm, Koorana Crocodile farm, was opened in November 1981 and was the first commercial crocodile farm in Queensland.
Ken says his croc tail is a saltwater breed, which he believes was a female given its size.
The Akoonah Park Men's Shed manager Maurice Hall said: "We're really working out how we're going to mount it – we've come up with some ideas"