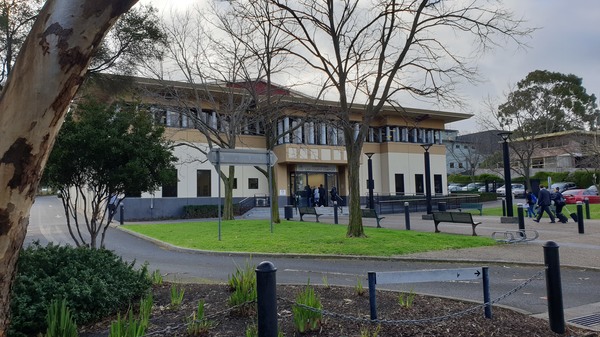 By Cam Lucadou-Wells
A man has been refused bail after police allegedly seized three firearms from his bedroom in the vicinity of a non-fatal shooting in Narre Warren.
Dillon Kelly, who was arrested during a police raid on the Shrives Road house on 31 July, was unable to prove exceptional circumstances for his bail at a hearing at Dandenong Magistrates' Court on 13 August.
Kelly had provided an alibi that exonerated him from the shooting, police told the court.
On 31 July, a male gunshot victim drove himself to Casey Hospital with a chest wound – the bullet puncturing both lungs and lodging 2 centimetres below his heart, a court heard.
He had earlier made a triple-0 call in the vicinity of Kelly's home – which was raided by police later that day.
The victim has so far refused to make a statement to police about the shooting.
Police allege they seized two sawn-off shotguns from a wardrobe and a loaded revolver from a male motorcycling jacket in Kelly's bedroom. He'd told police he'd been riding a motorbike earlier that day.
Ammunition was also found in the bedroom's safe – for which Kelly provided police with the passcode.
A female housemate was charged and bailed over a commercial quantity of ice (190 grams) being found in another bedroom in the house.
Two other housemates have not been charged.
Kelly was charged with possessing a traffickable quantity of firearms as well as being a prohibited person in possession of firearms.
At the time, he was otherwise complying with two community corrections orders for similar weapons offences including possession of an explosive substance and a firearm, the court heard.
Police told the court that Kelly regularly carried weapons. He'd been charged with weapon offences four times in 2017 and 2018, and been convicted of breaching bail.
Police argued Kelly's submitted address with a family of young children in Pakenham as "absolutely not appropriate".
Kelly's lawyer said that the case was a circumstantial case with "a lot of question marks", given four resided at the house, the safe code was known by everyone in the house, and Kelly had lived at the address for less than three weeks.
Police ballistics had yet to analyse the guns, and the shooting victim wasn't cooperating with the investigation, the lawyer said.
Magistrate Tara Hartnett said she didn't "necessarily agree" that the prosecution case was not strong.
She noted Kelly's "fairly significant" criminal history including firearm matters as a "grave concern".
In refusing bail, Ms Hartnett said she found Kelly was an unacceptable risk of reoffending.
Kelly was remanded for a contest mention at Dandenong Magistrates' Court on 16 September.