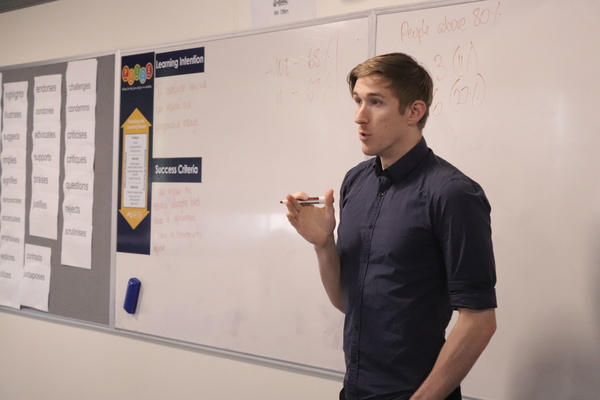 By Danielle Kutchel
When Brenden Horn finished school at Narre Warren South P-12 College in 2012, he didn't anticipate that he would be back teaching in the very classrooms that he sat in, just seven years later.
That said, teaching had been on his radar to some degree, as a "one day" thing.
He received consistent reminders from the assistant principal at his former school, asking him if he'd taken up a Dip-ed yet.
But straight out of year 12 Mr Horn found himself pursuing a career in a start-up business instead.
However, it wasn't long before he found himself no longer enjoying that role as much as he once had, and teaching began to look like a more attractive path.
Taking up a spot on the Teach for Australia program, Mr Horn was able to jump straight into the classroom whilst studying an education degree.
Not long into the program, he received the usual message from his former assistant principal: "are you a teacher yet?"
"This time, I got to say 'kind of!'" Mr Horn laughed.
Teach for Australia places its teachers, known as associates, into low-socioeconomic schools.
Narre Warren South P-12 fit the criteria and it wasn't long before Mr Horn was back walking the school's corridors, this time as a teacher.
He now teaches English to senior students at the College while also working alongside some of the teachers that taught him.
And far from being awkward, he said the pre-existing relationships helped him settled into the job a little easier.
"The head of VCE at the moment was my year 10 English teacher and my year 11 English teacher is now the head of middle years," Mr Horn says. "It's great to work with some of the people who shaped my education.
"It was quite easy to jump into the team and get integrated. Any job is difficult but it was easier already knowing those people."
The best part of the job though is the "cheeky" students.
"I enjoy working with the kids and seeing everyone improve in a collective way. Schools are unique places for that to happen," he explained.
"Sometimes the age group between the students I teach and myself is smaller than with the other teachers I work with. The kids remind me of myself sometimes.
"Even little things like language, handshakes, the jokes, are still going on today. It's definitely easy to get blasted into the past a little bit."
Ultimately, he said it's poetic to now be teaching in the same place he once learned in himself.
"I'm really stoked to be back at my old school," Mr Horn said.