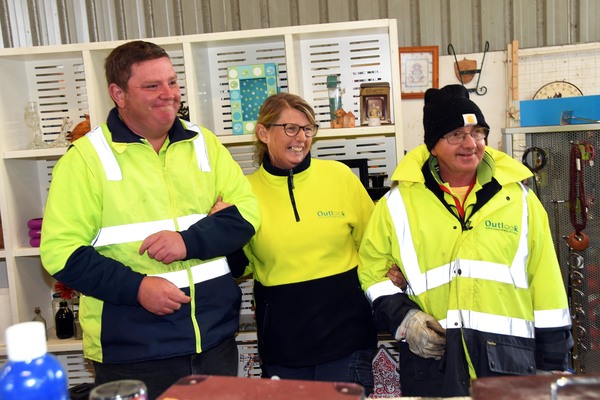 By Brendan Rees
Victorian MPs visited two government projects in Hampton Park on Thursday 7 November which has helped create jobs and skills for the disadvantaged.
Assistant Treasurer Robin Scott joined Member for Cranbourne Pauline Richards and Member for Narre Warren South Gary Maas at the Hampton Park resource recovery centre which is operated by Outlook Environmental.
Outlook Environmental is working in partnership with the State Government since the Social Procurement Framework was launched in April 2018, helping disadvantaged Victorians benefit from Victoria's Big Build.
Outlook Environmental manage and recycle construction waste material from some of the state's major infrastructure projects, including level crossing removals and the Metro Tunnel Project.
The MPs also visited the Evans Road level crossing where Outlook Environmental employees collect the waste and takes it to their recovery centre – where the company recycles about 90 per cent of construction materials, such as concrete, plastic, timber sleepers and metals.
More than 70 per cent of Outlook Environmental staff are people with disability or from a marginalised background.
Since signing their first Labor Government contract in 2017, they have created an additional 30 new jobs, increasing the number of staff to about 150 employees.
Assistant Treasurer Robin Scott said it was the State Government's aim to benefit as many Victorians as possible through their projects – "that's why we consider the social or environmental possibilities with every purchase we make."
"The Framework is delivering meaningful change to people's lives while getting on with building the infrastructure projects that Victorians need," he said.
Cranbourne MP Pauline Richards commended Outlook Environmental for their work, saying they made a "real difference and it's wonderful that we've been able to support them as a government".
Narre Warren South Gary Maas said the Framework recognised the critical role small to medium size enterprises play in our community.
"Outlook Environmental is not only providing Victorians with employment but doing good for the environment as well," he said.